Kingman could be in danger of losing Amtrak's Southwest Chief
Originally Published: June 8, 2018 6 a.m.
"Train I ride, 16 coaches long. Well that long black train take my baby and gone."
Junior Parker sang about the "Mystery Train" in 1953, but people might be singing the "Southwest Chief" blues if Amtrak follows through with plans to dismantle long-distance passenger train routes.
Southwest Chief runs daily from Chicago to Los Angeles through wheat fields and ranches, past missions and pueblos, across mountains and deserts, carving through canyons barely wider than the train itself.
It rolls through Kingman late at night, picking up westbound passengers at 11:46 p.m. and eastbound passengers at 1:28 a.m. at the historic train depot on Andy Devine Avenue, but ridership is not enough for Amtrak's new CEO to keep it on the map.
Recent management changes at Amtrak have impacted the national rail service in dramatic and negative ways, said Tony Trifiletti, executive director of All Aboard Arizona, a nonprofit organization formed in the 1980s to protect, expand and develop rail transportation in the state.
Arizona is served by two long-distance transcontinental lines, including the Southwest Chief that runs from Chicago to Los Angeles through Winslow, Flagstaff and Kingman. The Sunset Limited goes through Benson, Tucson, Maricopa and Yuma.
The National Railroad Passenger Corp., or Amtrak, was created by the people, for the people, and is funded by taxpayers who help to subsidize Amtrak's fare box revenue, Trifiletti noted. It's a "cherished" public service, with opinion polls repeatedly validating support for its existence and expansion.
"We've got clear hints they're going to do things," Trifiletti said Thursday in a phone interview from Phoenix. "They've already made decisions in the East, doing cuts, and already said they want to do something with Southwest Chief.
"As soon as people started pushing back, particularly people in Congress, Amtrak started retreating on this. I think this may be a strategic withdrawal. This is the end result of Congress allowing itself to be manipulated by Amtrak."
The Passenger Rail Investment and Infrastructure Act of 2008 set the stage for what is unfolding now, he said. It gave a "free ride" to states in the Northeast corridor, while requiring all other states to pay 100 percent of the cost for services under 750 miles.
"It's a classic case of slowly boiling the frog by gently heating the water," Trifiletti said. "What Amtrak wants to do is kill off the Chief, or at least break off segments between Chicago and Los Angeles of under 750 miles."
Shorter routes are served by suburban Diesel Multiple Units, or DMUs, and individual states are charged for any services that survive. It's a "bare bones" service, he said.
With no oversight by the U.S. Department of Transportation and Federal Railroad Administration, Amtrak's board of directors is focused on the Northeast, and is likely to violate its agreement with Kansas, Colorado and New Mexico. As part of the plan, Amtrak is eliminating staff at most depots in those states.
"Amtrak requires a comprehensive plan that provides long-term financial commitments from the other stakeholders for the unique operating and capital costs, including positive train control implementation, associated with the Southwest Chief route between Hutchinson, Kansas, and Albuquerque, New Mexico," Amtrak media spokesman Marc Magliari wrote in an email to the Daily Miner.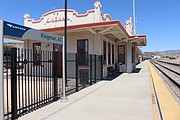 "A piecemeal approach to solving this problem that leads to higher operating costs and new capital obligations for Amtrak's long-distance routes isn't sustainable, especially as we face vast needs for fleet, station and infrastructure improvements across the national network. We stand prepared to consider any such plan as we consider alternatives for this portion of the route."
Amtrak reported ridership of 363,000 on Southwest Chief in 2017, a 0.4 percent decrease from 365,000 the previous year. Kingman's annual ridership is 9,944, and its station brings in $1.5 million in revenue.
Trifiletti said Amtrak does not use Generally Accepted Accounting Principles, or GAAP, but instead has its own "phony baloney" accounting system.
The standard measurement in transportation is "revenue per passenger mile." Amtrak never used this metric because it would show how long-distance routes financially outperform the Northeast corridor, he said.
Long-distance trains are "cash cows" because the same seat can be sold over and over, as well as sleeping compartments, Trifiletti explained. Only 8 percent of passengers take the Southwest Chief all the way from Chicago to Los Angeles. Most are destined for cities along the way.
The average long-distance train passenger travels 800 miles, about the same as airline passengers, and accommodations are turned over 2.5 times en route for each trip.
"Here's the killer," Trifiletti said. "East Coast commuter services are not paying Amtrak a penny to run on their tracks. From an infrastructure standpoint, the Northeast corridor is a money pit. So Southwest Chief looks like a money-loser because it's been charged to all the infrastructure costs in the Northeast."
Video by Elijah Cross. See more his videos on youtube, SWChief34
More like this story
SUBMIT FEEDBACK
Click Below to: