Little League: Kingman North can't get past Mohave Valley in Majors Tournament of Champions

Originally Published: June 8, 2018 4:09 p.m.
KINGMAN – As the old saying goes – to the victor go the spoils. That is usually the case in sports, but Kingman North Little League manager Chad Benson made sure to tell his squad an important fact prior to a 9-1 loss to Mohave Valley in the first round of the Majors Tournament of Champions Thursday night at Southside Park.
Photo Gallery
Little League: Kingman North vs. Mohave Valley - June 7, 2018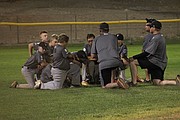 The Kingman North Little League squad lost 9-1 to Mohave Valley Thursday in the first round of the single-elimination Majors Tournament of Champions at Southside Park. Photos by Beau Bearden.
"Before the game, I told them – 'win or lose, it doesn't matter. It's not about winning or losing, it's about how you perform as a team and as an individual,'" Benson said. "'Did you do the right things – getting in there and executing, playing the ball the way it needs to be played, being a force in the batter's box and just being a tough out. Getting outs in the field and throwing strikes when you get the call to be a pitcher. If you do all that, that's a win in my mind."
While Kingman North may have lived up to its manager's expectations, it wasn't enough against defending champion Mohave Valley.
The score was tied 1-1 after the first frame, but then Mohave Valley put up four runs in the fourth and three in the fifth to advance to the next round.
"The bats couldn't get going," Benson said. "You try to get on base however you can. We want our kids to hit and they do, they hit well. But Mohave Valley pitched tough – they have breaking balls, they have fastballs and they have all the stuff. When you're messing with pitch location and timing, it brings a whole new perspective."
Benson added that he and his staff prepared Kingman North for the tournament setting, but it's something that teams can only adjust to by experiencing it firsthand.
A look at the scorebook proved that as Kingman North managed four hits and only three runners advanced to third base.
Cade Benson scored the lone run after tallying a leadoff single in the first, while Keygun Field, Jeremy Steed and Keegan Parlanti also finished with a base hit.
"I'm proud of them - I think they played well," Chad Benson said. "We had a few errors and we had a few mental mistakes, but other than that hats off to those guys – they're a tough team. We knew they were a tough team. They pitched well and they hit well. I feel we left it all out on the field."
Kingman North's 100 percent effort won't change anytime soon either. The coaching staff knows what is important and they'll continue to stand beside those morals through thick and thin.
"At the end of the day it's about getting better and teaching kids to be great young men," Chad Benson said. "That's what we're about as coaches. Hats off to Steve Petrauschke, Jerome Heitzman and Drew Sutherland – they've been with me for the last couple of years. Steve has been with me for the last five years. We're relentless out here on the field. We practice constantly and as much as we can."
More like this story
SUBMIT FEEDBACK
Click Below to:
This Week's Circulars
To view money-saving ads
For as little as $3.49*