Route 66 brings visitors from around the country and world
Originally Published: June 12, 2018 6 a.m.
At least a couple times a week, Diana Caldon "speaks wine" with international tourists at Diana's Cellar Door, just a block off Route 66 on Kingman's growing, but not yet bustling, Beale Street business district.
Most recently, it was some Czechs. Before that, a Romanian husband and wife. And Frenchies, polite and courteous on our turf.
She may not be able to understand their conversation, but at least they're enjoying her wine.
"Wine is international," said Caldon, who sees a steady stream of tourists coming through her wine café. "Absolutely."
Our main tourist attraction is Route 66, which has as much international appeal as domestic, launching nostalgic and historic trips across America for thousands of travelers each year.
We also capture a significant segment of visitors on their way to the Grand Canyon, Las Vegas and Southern California.
Not everyone has heard of Kingman, but most have heard of Route 66, said Josh Noble, tourism manager for the City of Kingman. It's a major selling point, and Noble uses it to his best advantage.
"It has mind space," he said. "People think of Route 66 and think of the road, the attractions, the history. And we have two of the best preserved sections of it."
Arizona boasts the longest contiguous remaining stretch of Route 66, nearly 160 miles from Ashfork to Topock. The highway was decommissioned in 1985.
Dennis and Kathy Halloran, of Plymouth, Wisconsin, were traveling Route 66 Monday on their "retirement trip," starting in Chicago and staying at mom-and-pop motels along the way.
They stayed at El Trovatore Motel where the staff was friendly and the rooms were clean, Kathy said. The motel owners did a fantastic job with the Route 66 "dateline" map, Dennis added.
"That's the big thing on Route 66. Places are putting sweat equity into them to bring them up," Dennis said. The couple wanted to stay at the famous Blue Swallow Motel in Tucumcari, New Mexico, but it was filled, so they stayed at the Roadrunner.
Noble surveyed six Kingman motels a year ago, collecting a total of 226 responses, and tabulates 6,000 to 7,000 entries a year in the Powerhouse Visitor Center guestbook, identifying people from almost every state and foreign countries such as Germany, Japan, United Kingdom and France.
"Yeah, it's really nice because I think they do a lot of Trip Advisor and Yelp, and Diana's Cellar Door comes up and I'm sure a lot of other establishments around town do too," business owner Caldon said. "I know Black Bridge (Brewery) does. If they do reviews in their native language, it's pretty cool."
About one-third of overnight travelers consider Route 66 to be one of their major destinations, the tourism survey found. However, nearly 70 have an interest in the highway, including couples and families from younger generations, Noble said.
"I think for baby boomers, there is an element of nostalgia," he said. "But for the younger generations, it's something entirely different. These generations didn't grow up on Route 66. Their interest is fueled by a romanticized appeal of the Mother Road, very similar to how the Wild West became interwoven into the fabric of American culture, so has Route 66."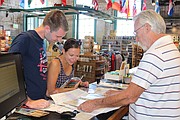 Several towns in Illinois have experienced double-digit increases in sales tax revenue after developing and marketing Route 66 themes, and they only have nine months of tourism, said Jim Hinckley, Route 66 historian and author.
Kingman has an advantage of being centrally located on one of the most scenic sections of the highway, as well as being on the western edge of the Grand Circle of national parks in Arizona and Utah.
It's a gateway to the great Southwest, a day trip to Grand Canyon West, Grand Canyon Caverns, rafting the Colorado River and hiking the Cerbat and Hualapai Mountain trail systems.
With more than 10 million people living within 400 miles of Kingman, the city is ideally suited for weekend getaways, Hinckley feels.
"Long-term sustainable tourism growth linked to Route 66 requires a presence at key events, as well as development of partnerships and relationships in the international Route 66 community," he said.
"The recent European Route 66 tour that spent the evening in Kingman, and more than one dozen couples that visited the city were a direct result of Kingman having representation at the first European Route 66 Festival."
The Route 66 Association of Kingman, along with organizers of Chillin' on Beale Street and a few business owners, put almost 200 "heads in beds" during the month of May, Hinckley mentioned. They included the European Route 66 tour, tour companies from New Zealand and Australia, and receptions for people invited from Europe.
It's not all about the Mother Road, Noble noted. About one-third of overnight guests said they were interested in hiking trails, and for younger age groups, the number climbs closer to half.
That's why the City is developing the White Cliffs Wagon Road Trail that would eventually tie into roughly 35 miles of trails in the Cerbat Foothills Recreation Area.
"Trails are a big push across communities in Arizona and Utah because people recognize the economic impact," Noble said. "What I find most beneficial about adding this trail is that it will highlight one of the most unique attractions in Kingman – wagon tracks."
Sierra Vista, Camp Verde and Prescott are just a few of Arizona's communities focused on developing trail systems.
The Electric Vehicle Museum inside the Powerhouse Visitor Center is showing potential for expansion. There's also First Friday, murals and public art, and the Kingman Arch being built on Beale Street.
Noble said he markets to two "camps" of Kingman tourists. One is long-distance travelers who aren't interested in Kingman itself, but can be introduced to the town through Route 66 and the Grand Canyon.
The second group is regional travelers who may be specifically interested in special events such as Chillin' on Beale Street, hiking the Hualapais or taking a scenic drive.
"We need to build on our visitor infrastructure," Noble said. "Some of that is under way. For example, the city is investing in the arch and water tank murals. We're investing in more events, Andy Devine Days, First Fridays. The more there is to do in Kingman, the more people want to come here and stay here, the easier it is to promote."
More like this story
SUBMIT FEEDBACK
Click Below to:
This Week's Circulars
To view money-saving ads
For as little as $3.49*