Secretary of State candidates trade barbs, ideas

Originally Published: June 14, 2018 5:43 p.m.
KINGMAN – Polling places were the hot topic at Wednesday's Mohave Republican Forum when Arizona Secretary of State Michele Reagan and her opponent, Steve Gaynor, were the keynote speeches for the meeting.
Old issues were brought up during the 10-minute speech session each candidate was provided while discussing their platforms.
Gaynor brought up the issue of how polling places were drastically reduced from 379 in 2008 to 60 in 2016 during a presidential preference election.
"And our Secretary of State approved that plan. It was a disaster," Gaynor said.
Reagan chimed in on what her opponent has said about the issue in the past.
"I generally don't comment on some of the things my opponent says," she said. "But I have corrected him on this before, and I'm going to have to correct you again."
The number of polling places is decided by each county, and the one to decide that number is the county recorder.
"The SOS does not approve the polling places as my opponent likes to mention," Reagan said.
The body that approves the number of polling places is the board of supervisors, she said.
Gaynor also brought up the time the Secretary of State office failed to send out 20,000 pamphlets that provided information on Proposition 123 in 2016 and passed by 20,000 votes.
"The Attorney General's Office investigated, it was that serious," he said.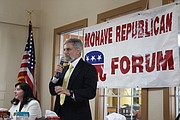 Other problems Gaynor brought up during the meeting was that the Secretary of State's office is supposed to publish an election procedure manual for each of the elections, and the office hasn't published one since 2015.
According to the Secretary of State's website, there is going to be a 2017-2018 election procedure manual that has been submitted to the governor and attorney general for approval.
Reagan did say that that although she doesn't always read good things about herself, it doesn't mean she thinks she's doing a bad job.
Although there are some disagreements between the incumbent and the challenger, they agreed it's important to keep a Republican as the Secretary of State.
Rodney Glassman, a Republican candidate running for the Arizona Corporation Commission touched on some of the key points from his platform, including restoring integrity to the ACC and water issues.
He holds a doctorate degree in arid land resource sciences, and an environmental law degree from the University of Arizona. He is a Republican precinct committeeman and has served in the Air Force JAG Corps reserve for more than eight years.
Rep. Regina Cobb and Sen. Sonny Borrelli were scheduled to attend the meeting to provide a legislature wrap-up, but could not due to an agricultural water issues meeting that lasted almost six hours.
More like this story
SUBMIT FEEDBACK
Click Below to: