Locals let it be known that Mohave County wants to keep its water at standing room only committee hearing
'This is our water, and it's our turn to grow'

Originally Published: June 15, 2018 6 a.m.
Mohave County's water dilemmas were the topic of discussion Wednesday afternoon, as residents and their legislators gathered for a public hearing at a meeting of the Arizona House of Representatives Committee on Energy, Environment and Natural Resources.
People from all throughout Mohave County, and even some from La Paz County, were in the Mohave County Administration Building to have their concerns and voices heard, as well as to hear what their legislators and fellow residents had to say.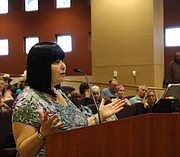 The appropriation of $100,000 to find the remaining amount of groundwater in the Hualapai Valley Basin and the rate at which it's depleting, a drought contingency plan, and the USGS study assessing the impacts of groundwater withdrawals were all topics of discussion. But the majority of citizens were primarily concerned with Colorado River water being transferred away from the main stem or leaving the county.
"Small groups of non-elected boards cannot be allowed to determine something as important as our water stability," said Lori Chambers, president of the Kingman Golden Valley Association of Realtors. "Our current and future growth of our county depends on our water."
Residents were bothered, to put it lightly, by the Central Arizona Project Board of Directors' plan to negotiate a purchase and sale agreement with Water Asset Management to acquire water rights within Mohave Valley Irrigation and Drainage District. To the elation of those in the auditorium, CAP canceled those plans last week. However, worries remain, with some citizens believing they have not seen the last of CAP's hand in the cookie jar that is Mohave County's water rights.
"We thank the CAP board for that vote, but we fear that this is not the end of the effort by Central Arizona Groundwater Replenishment District to come to rural Arizona and fuel their growth," said Lois Wakimoto, Mohave County District 5 supervisor. "We feel that this is our water, and it's our turn to grow, just like Central Arizona was able to grow."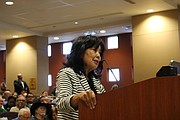 Wakimoto said that just as Mohave Valley has begun to grow economically, as Central Arizona has done in the past, that area of the state "comes to take our water." And she wasn't the only one concerned.
"It does not matter who the parties are to the transaction, as we are generally opposed to any transfer of Colorado River from Mohave County or La Paz County, to Central Arizona," said Mark Nexsen, mayor of Lake Havasu City.
He called Colorado River water the "economic lifeblood" of Mohave County and said transferring that water to central Arizona would create a divided state. The now-canceled CAP plan called for the acquisition of about 2,200 acres of farmland with about 14,000 acre feet of diversion water rights and the transfer of approximately 5,500 acre feet of water annual from Mohave County to Central Arizona.
"In essence, rural Arizona would be left out of any significant future economic activity for our state," Nexsen said.
Bennett Bratley, Mohave County economic development director, said the stage is already set for that economic activity in Mohave County. He said the county's proximity to Las Vegas gives local businesses access to 2.2 million consumers, and the one-day drive time into Southern California yields another 24 million potential consumers.
Pair that with the six opportunity zones identified within the county, industrial parks like the one in Kingman, Route 66, Grand Canyon West's Sky Walk, and the transportation opportunities supplied by I-40 and I-11, and things are looking up for Mohave County. But, Bratley said, water is the defining factor in the county's growth.
"Water is going to be a very crucial component of this growth and for the future of these industries," he said. "Without this precious resource, Mohave County cannot develop and we cannot grow. Even the mere threat of lessening the water supply will have an impact on our growth."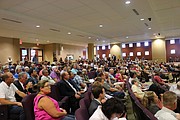 Hearing public comment were state senators Sonny Borrelli (R-Lake Havasu City), and Frank Pratt (R-Casa Grande), Rep. Charlene Fernandez (D-Yuma), Rep. David Cook (R-Globe), Rep. Regina Cobb (R-Kingman), Rep. Tim Dunn (R-Yuma), Rep. Paul Mosley (R-Lake Havasu City), and Rep. Brenda Barton (R-Payson). The meeting was chaired by State Senator Gail Griffin (R-Hereford) and Rep. Rusty Bowers (R-Mesa).
Agricultural use of water and the potential for fallowing projects were other topics addressed Wednesday, as was the drought contingency plan efforts of Arizona, California and Nevada. This is the first in a series of articles on Wednesday's public hearing of the Arizona House of Representatives Committee on Energy, Environment and Natural Resources.
More like this story
SUBMIT FEEDBACK
Click Below to: