Steven Madrid's family in Iowa wants answers about his death

Originally Published: June 18, 2018 6 a.m.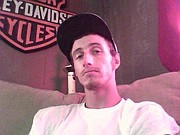 His family will be the first to say their son and brother wasn't living the best life. He was struggling with the demon of addiction and most likely was acting out in order to feed his dependency.
They don't believe that whatever the situation was he found himself in on the late night of May 22 and into the early morning hours of May 23 warranted his being murdered.
"He was a hardheaded kid," said Sabrina Madrid-Vandello, the victim's sister. "Everyone I've talked to has said he had a big heart, but he was paranoid all the time."
Steven Paul Madrid, 27, the father of twins, was badly beaten that night outside his apartment. According to Kingman Police Department, there was a knock on the apartment door, Steven answered and went outside with a male who had rapped on the door. After being gone for several minutes, Steven's girlfriend went looking for him. She found him on the ground, bleeding from his ears and having difficulty breathing.
He was taken to University Medical Center in Las Vegas via Kingman Regional Medical Center and was placed on life support until his family from Iowa could get to Vegas, according to his mother, Liz Dimmitt.
"They told me, 'it's very bad head trauma and be prepared that he may be brain dead,'" Dimmitt said. "When I got with Steven, I was so emotionally exhausted I fell asleep on his pillow. They said they were keeping him alive until I got there."
Kingman bound
Steven was raised between California and Iowa. He moved to Iowa from the former when he was in the third grade. When he was older, he returned to California to live with his grandfather and entered into a nursing program. He didn't complete it and found his way to Kansas City, Missouri, where he began to pursue a career in music.
Steven's fondness for music brings out the favorite stories the family has about him. Madrid-Vandello remembers him at 6 and 7 walking around the house with a Sony Discman plugged into his ears belting out the tunes of Kid Rock.
"He really loved his music," his sister said. "It was so annoying, but now that I look back on it, it's one of my sharpest memories of him."
It was in Kansas City when it seemed to his family that Steven had a shot at making his mark in business and was creating under the name "Yung Blayed." What is a mystery to them is that he relocated to Kingman in the middle of what he had going on in Kansas City.
"He called from Kingman and told us he had a job in landscaping," Dimmitt said.
The spiral begins
Tragedy entered Steven's life in November 2016. He lost his oldest son, Sebastian. After an accident, Sebastian had been hospitalized for nearly seven months before he died.
He reached to his mother for help in April because he also had baby twins, Warren and Cherish.
"I told him we would do anything to help him out," his mother said. "We asked him to come home with us. We wanted to help Steven with the kids and get him some assistance. But he said no."
He was wrapped up in his wrestling match with the drug demon. He was living in a trailer behind the hospital without running water and refused the offer of a shower and new clothes.
"It blows my mind the people he was running with," Dimmitt said. "I asked him, 'What do these people have on you?' He got mad at me. When I was taking the kids, he blocked me and wouldn't talk to me. I couldn't get a hold of him."
The twins are living with Dimmitt in Iowa now. They're living as normal a life without their father as possible.
Steven Madrid didn't make the best choices for his life. One or two of those bad decisions may have led to his death, and his sister, Sabrina Madrid-Vandello, and his mother, Liz Dimmitt, are wanting answers to who and what did that to him.
"We're hearing many different stories," his sister said. "If people would just listen, they're going to tell you about what they know. We want justice for our brother. We know there are good people in Kingman. Someone knows something. If they're scared, I'm more than happy to help them get out of there."
A reward of $1,000 is being offered for information leading to the arrest and apprehension of those responsible. Anyone with information is urged to contact KPD at 928-753-2191, or call Mohave Silent Witness at 928-753-1234. Report tips online by going to www.kingmanpolice.com.
Editor's Note: This story was changed to reflect the correct spelling of a name and what the twins recently did.
More like this story
SUBMIT FEEDBACK
Click Below to:
This Week's Circulars
To view money-saving ads
For as little as $3.49*