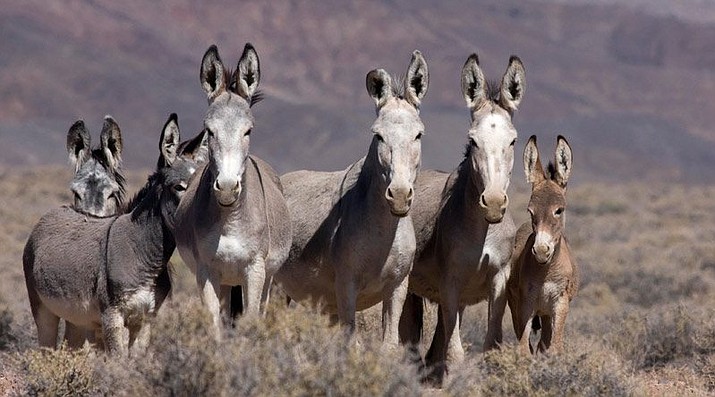 Originally Published: June 20, 2018 5:24 p.m.
BULLHEAD CITY – The Bureau of Land Management is rounding up about 60 wild burros in the Bullhead City area for adoption over the next three weeks.
The roundup, which started June 15, comes after private landowners and county officials expressed concerns about a string of incidents involving wild burros.
The burros will be transported to the BLM's adoption center in Florence, where they will be put up for public adoption.
For information on how to adopt a burro, go to www.blm.gov.
The goal of the BLM's Wild Horse and Burro Program is to use all available management tools under the 1971 Wild Free-Roaming Horses and Burros Act to ensure the animals are healthy and thriving on public rangelands.
In related news, the House Appropriations Committee adopted an amendment on June 6 that authorizes the BLM to manage wild horse and burro populations using surgical sterilization.
The American Wild Horse Campaign harshly criticized the action as a major step toward the destruction of America's wild herds.
"If passed by the Congress, this will be the beginning of the end of the iconic free-roaming wild horses and burros of the American West," Suzanne Roy, executive director of the American Wild Horse Campaign, said in a prepared statement.
The mass sterilization uses invasive, high-risk and destructive surgeries to remove the ovaries of mares that were rejected by the National Academy of Sciences, she added.
It would fundamentally alter their reproductive hormones and destroy their free-roaming natural behaviors – the essence of what makes them wild and distinguishes them from their domestic counterparts.
Complicating the situation, Roy says, is the cost of the procedures and the fact that they would be conducted under non-sterile conditions in the field or at BLM short-term holding facilities.
The BLM has been baiting and trapping female burros in the Black Mountain Herd Management Area since August in partnership with the Humane Society of the United States to reduce the population.
The female burros, or "jennies," are inoculated with the immunocontraceptive vaccine Porcine Zona Pellucida, or PZP.
"Once we get the animals into the corral, we check their health and well-being and we check their gender, and for jennies, they get the PZP and usually within 24 hours they're back on the range," BLM spokesman Adam Eggers told the Daily Miner in February.
As of Feb. 2, BLM had gathered 96 females from the Black Mountain area, with a target of 160 females.
"It's something we're very interested in seeing how the data comes out," Eggers said. "There's not going to be one end-all, be-all solution to burro population control. The way to success is multiple strategies."