Rowden family hits a bullseye with Inside Out Archery

Originally Published: June 20, 2018 6 a.m.
Gavin Hopper woke up one Christmas morning and found just what he was looking for under the tree – a camouflage compound bow. At 10 years old, Gavin has already been shooting for two years, and the hobby runs in the family.
"My dad has been shooting for probably four or five years," Gavin said. "My mom and sister shoot, too, but it's cool when it's just my dad and me. We usually shoot in the backyard a lot."
When the Hopper family isn't in their backyard, you can find them at the Mohave County Fairgrounds on Thursday evenings. Corbin and Brad Rowden host weekly shooting sessions, and their family has a connection with the Hoppers.
Photo Gallery
Inside Out Archery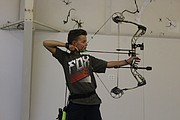 Corbin and Brad Rowden host archery shooting sessions Thursdays at the Mohave County Fairgrounds. Children start shooting at 5:30 p.m. for a cost of $5, and adults are at 6:30 p.m. for $15. A child shoots free with each paying adult. Photos by Beau Bearden.
"They actually live down the street from us," Gavin said. "So we helped them build the stands and start the business and stuff."
But Inside Out Archery may never have started if it wasn't for Brad Rowden's desire to bring something different to Kingman. He has bow hunted his whole life, but started target archery about three years ago.
However, there wasn't a child or adult league in town – so he decided to change that.
"I told Corbin, 'Let's buy some targets and start our own league somewhere big where everyone can shoot together,'" Rowden said. "I wanted somewhere I could take my three kids to shoot, and then I could shoot after them. That's what we try to create here. It didn't exist before. We're locals to Kingman, and we don't want to go anywhere else."
Inside Out Archery is now right on target after the Rowden's made an agreement with the fairgrounds last October to use their facilities every Thursday evening.
A number of children and their parents could be found at the fairgrounds last week, and 6-year-old Kayden Marshall shyly said getting the highest score was what he enjoyed most.
He did admit that sometimes it's difficult to get the bows out of the targets after he's done shooting, but that didn't stop him or 11-year-old Hayden Gonzales, who continued to hit a number of bullseyes.

Hayden was a boy of few words but said he had to practice a lot to perfect his aim.
Meanwhile, 7-year old Rylie Hayes discovered how fun it was to shoot at home and now she's hooked. Rylie said she's the only one in her family who shoots Thursday night, but that doesn't mean she's not creating interest.
"Sometimes when I'm at home, my dad shoots with my bow," Rylie said.
That father-daughter bonding is something Rylie enjoys, but she admitted aiming is the most difficult part of shooting.
"You can't keep your arm still," she said.
At only seven, Rylie has plenty of time to perfect the art form and that's exactly why Rowden wanted to start the business.
"It's exciting – we plan on doing this for a while," he said. "We're locals, we're not planning on going anywhere. We're going to stay here for a while and keep shooting. As long as there is an interest from the community, we'll keep putting it on."
As with many businesses though, there were start-up costs to get it going. Rowden said he invested about $10,000 –money that went toward the supplies for the targets, the stands, insurance, and making sure they were covered appropriately to be at the fairgrounds.
Rowden recommended those interested in picking up the hobby to visit a bow shop in Kingman or the surrounding area as Inside Out Archery doesn't provide rentals.
"Go with your budget in mind – how much you want to spend," Rowden said. "Then try a bunch of different bows. Shoot recurve and compound to see which one you like and which one most interests you. You can get one for a couple of hundred dollars all the way up to thousands, depending on how much you want to spend."
Rowden added he has seen someone spend as little as $50 to get started, while others invest around $200 dollars on their initial setup.
Once you have your bow, take a trip out to the fairgrounds on Thursday night. Children start shooting at 5:30 p.m. for a cost of $5, and adults are at 6:30 p.m. for $15. A child shoots free with each paying adult.
For more information, visit facebook.com/insideoutarcherykingman.
More like this story
SUBMIT FEEDBACK
Click Below to:
This Week's Circulars
To view money-saving ads
For as little as $3.49*