Little League: Kingman North 10-12 All Stars hold on for 1-0 win over Blythe

Originally Published: June 23, 2018 1:42 p.m.
KINGMAN – With runners on first and third base with two outs, manager Chad Benson decided to roll the dice with a double steal during a scoreless battle Friday night. That call was ultimately the difference-maker as it gave the Kingman North 10-12 All Stars a 1-0 win over Blythe in the District 9 Tournament at Southside Park.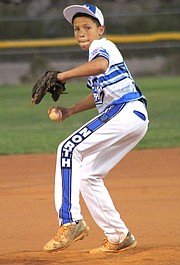 "It was the luck of the deal," Benson said. "Our guys play hard – Casen (Short) slid into the bag hard and the guy bobbled the ball. That gave us the opportunity to score that run. It's the little things. Fortunately it went in our favor."
At first glance, it didn't appear the play went in Kingman North's favor as Short was tagged out at second – which would have ended the inning. However, Blythe's second baseman dropped the ball to make Short safe and allow Reilly Feil to cross home plate.
Feil admitted he thought Short was out at second, but that didn't take away from his excitement of scoring a run in a pitcher's duel.
Keygun Field started for Kingman North and shut down Blythe's lineup – allowing only two hits with six strikeouts in 3 1/3 innings of work. Noah Petrauschke then entered the game in relief and struck out five, while allowing three hits.
"We're really good friends," Keygun said of Noah. "We help each other pitching-wise."
That bond no doubt paid off Friday night and Benson knows the duo are a great 1-2 punch.

"Both of them are great pitchers," he said. "There's a difference between a thrower and a pitcher. Those guys pitch – they hit their spots and they hit their location. It's overall good pitching."
Unfortunately, Kingman North didn't have the same success with its bats – striking out six times and only having three batters reach third base.
"That's not the hitting team that I know," Benson said. "These boys are capable of a lot more. I know they are. I think we're going to see that the longer we play in the tournament. The boys will settle in, get comfortable, and get the jitter bugs out."
But at the end of the day, Kingman North was victorious and there was one more player Benson wanted to praise.
"Our catcher Izaiah (Orozco) did phenomenal," Benson said. "I don't think he had one passed ball all night long. My hats off to him for that effort."
Kingman North advances to an 8 p.m. contest with Lake Havasu City Saturday and Benson hopes the team learns from its close affair with Blythe.
"We need to relax a little bit and we need to just play," he said. "But at the same time, we can't let up. We can't anyone in this tournament for granted. We had that conversation – you're talking about putting the best of the best from each little town. When you do that, there's always going to be good pitching and good hitting."
More like this story
SUBMIT FEEDBACK
Click Below to: