Field's 5 RBI night leads Kingman North 10-12 All Stars to win over Lake Havasu

Originally Published: June 24, 2018 1:14 p.m.
KINGMAN – One night after struggling to find their bats, the Kingman North 10-12 All Stars exploded for 13 hits and drove in nine runs Saturday during an 11-6 victory over Lake Havasu City.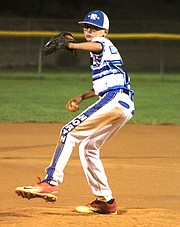 Keygun Field led the way with five RBIs, while Noah Petrauschke finished with two RBIs in the District 9 Tournament at Southside Park.
"We started connecting with the ball," Keygun said. "We were relaxed at the plate and we were just trying to get the ball in play."
Field drove in Kingman North's first run of the game in the top of the first inning on a sacrifice fly. He followed that up with a two-run double in the second, a RBI single in the third, and an RBI double in the fifth.
"This team is a pretty powerful hitting team – I know they are," said Kingman North manager Chad Benson. "It's coming, this is just the beginning. They're going to keep getting better and better as we go on."
The same can be said of Kingman North's pitching as Cade Benson entered in relief Saturday night and struck out four batters in 4 1/3 innings of work.
Cade did walk in a run and allow a two-run double, but those were inherited runners after he took the mound with the bases loaded and only one out in the top of the second inning.
Despite the tough situation, Cade ended up getting two strikeouts to end the frame and keep Kingman North in the game.
"It was a tight score right there," Cade said. "I was afraid it was going to give them the lead and then we wouldn't get our hits back. But we came around with those runs."
Cade was speaking of the five runs Kingman North scored in the bottom of the second and two more in the third that gave the team an advantage it never surrendered.
Kingman North led 8-6 after three innings, but an unlikely hero in No. 9 hitter Vonn Anderson scored the eventual game-winning run in the third. Anderson connected on a triple and then crossed home plate on Cade's sacrifice.
"Vonn was a spark right there – he opened it up," Benson said. "When he hit that shot to left center that changed the vibe in the dugout. It was kind of game on and we put more runs on the board."
Following Anderson's big hit, Field followed with his RBI single and then Kingman North kept it going in the fifth inning with three insurance runs.
And it was only fitting Anderson played a role – leading off the frame with a single to once again spark the offense.
Kingman North will look to keep its bats going at 8 p.m. Tuesday against Needles in the semifinals of the District 9 Tournament.
"The boys needs some rest – they've been practicing hard," Benson said. "It's been hot and we've had excessive heat the last couple of days. This will give them a little chance to rest and gather themselves."
More like this story
SUBMIT FEEDBACK
Click Below to: