Arts and crafts to be showcased in the Hualapais Sunday

Originally Published: June 27, 2018 4:07 p.m.
KINGMAN – The Hualapais on Sunday is going to be more than mountains and nature. The beautiful scenery will play host to an arts and crafts fair from artists around the state of Arizona.
The fair isn't just a fun place to see all the neat stuff artists can produce, but it's to showcase the diversity of the art and crafts industry.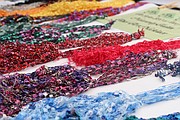 Kathy Kroft from Green Valley near Tucson, makes handmade jewelry that she calls, "wearable fiber art." Her colorful, handmade necklaces are lightweight and crocheted together.
She stumbled across this interesting looking yarn when she stopped at a yarn store in New Mexico.
"I started fooling around to try and make something," Kroft said.
There are other jewelry vendors at the fair. Some specialize in frequency jewelry and others sell authentic Native American jewelry.
CJ Greenstone, a sales representative for Greenstone Collection Pottery and Crafts, said earrings and other types of jewelry on display at her booth at the fair are handmade from family members.
Greenstone specializes in horse hair pottery, and it usually takes about a week from start to finish to complete.
"We're a little more different. We add paint and color," Greenstone said.
Pottery isn't the only type of sculpted art at the fair. There will be vendors that specialize in metal art and everyday household items. For the children, or your inner child, there's handmade trinkets like train whistles, catapults, a Pandora's Box puzzle and wooden rubber band guns.

The fair is on the first Sunday of the month from now until August from 9 a.m. to 3 p.m. in the Hualapai Mountain Park Recreation Area 1.
More like this story
SUBMIT FEEDBACK
Click Below to: