City wants KAA attorneys to pay back fees spent on lawsuit
Originally Published: June 27, 2018 1:07 p.m.
Document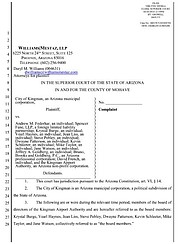 KINGMAN – The City of Kingman filed a complaint Tuesday in Mohave County Superior Court against Kingman Airport Authority's outside counsel, former executive director and board members for wrongfully spending airport funds on a lawsuit protecting their interests.
The six-page court document prepared by Phoenix attorney Daryl Williams details six counts including theft, racketeering and violation of fiduciary duties.
Williams is asking for an order requiring KAA attorneys Andrew Federhar and Jeff Goldberg to give back money they were paid for representing the authority in the condemnation case.
The actual amount spent on litigation has never been disclosed, but Williams estimated it at $200,000 to $400,000.
"I have great confidence in this lawsuit because the use of these funds was designated for other uses," Williams said in a phone interview Wednesday.
Goldberg and Federhar acted "ultra vires," or illegally, in receiving funds they knew were set apart for particular purposes and that they were not authorized to receive, and therefore they must "disgorge" those funds, Williams said.
A request for comment from Federhar was not returned.
The City of Kingman filed a condemnation notice in December to terminate its lease agreement with KAA and take back the airport and industrial park and all associated leases.
Mohave Superior Court Judge Steve Moss ruled in favor of the City in April with an order granting immediate possession of the airport.
Williams attached six exhibits to his complaint, including an Oct.6 letter asking Federhar how he thinks KAA can hire him to take a position adverse to the city, which is leasing the 4,000-acre airport and industrial park to KAA through a 1992 agreement.
"I propose that the airport authority recognize its status rather than having the city and the airport authority run up attorneys fees which, I believe, you would eventually have to disgorge anyway," Williams wrote.
He followed up with a Feb. 23 letter stating that KAA, as the city's administrative agent for operating the airport, has fiduciary duties that prevent it from taking a position adverse to the principal.
"Any actions by the Kingman Airport Authority since termination of the agency relationship have been unauthorized, and the agent, including you and the individual members of the board, are liable for all damages and waste of the city's assets," Williams said.
In addition to Federhar, plaintiffs in the complaint filed Tuesday include board members Krystal Burge, Vearl Haynes, Jean Liss, Steve Pebley, Dwayne Patterson, Kevin Schleeter, Mike Taylor and Janet Watson; and former executive director Dave French.
The case has been assigned to Judge Charles Gurtler, but Williams said he attached another motion to have it transferred to Judge Moss, who is "up to speed" on documents dating back to 1949.
Related Stories
More like this story
SUBMIT FEEDBACK
Click Below to: