Kingman North 10-12 All Stars advance to title game with win over Needles

Originally Published: June 27, 2018 3:54 a.m.
KINGMAN – As he rounded third base Tuesday night, Reilly Feil didn't show the usual emotion of a player who had just given his squad a huge momentum boost. Instead, Feil kept a straight face after his two-run homer that helped spark the Kingman North 10-12 All Stars to a 12-2 win over Needles in the semifinals of the District 9 Tournament at Southside Park.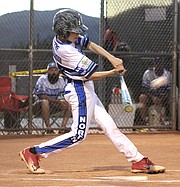 "I hit it and I thought it might have been caught," Reilly said of his home run. "But when I saw it in the air, I knew it was for sure out (of the park)."
Feil's shot gave his team an early 3-0 lead and it was only the beginning of the fireworks. Kingman North would tack on four more runs in the frame – highlighted by Izaiah Orozco's RBI triple and Vonn Anderson's two-run double for a 7-0 advantage.
"The lead and that home run Reilly hit – that was the deflator of them and the inflator of us," said Kingman North's Noah Petrauschke.
Even manager Chad Benson admitted Feil's big shot proved to be just what Kingman North needed.
"It was a clutch hit by Feil to just hit a screamer over the fence," Benson said. "That changed the atmosphere. I said it in the beginning – this is a hitting team and every one of these guys can hit the ball very well."
Feil led the way at the plate with a perfect 3-for-3 night, highlighted by two RBIs and two runs scored. Cade Benson, Casen Short, Keygun Field and Orozco added two hits apiece to help Kingman North finish with 12 base knocks as a team.
Short also played an instrumental role as his two-run double in the bottom of the fifth ended the game by the 10-run rule.
However, Kingman North could have easily found itself in a closer batter after Needles turned a double play in the third inning – tagging out runners at home and second to end the frame.
"We're playing to win, being aggressive on the bases and everywhere we can be aggressive," Chad Benson said. "It caught up to us right there and kind of swung the momentum. But we got it back, held it together and the boys finished off strong."
Needles would score its only runs of the game in the top of the fourth, but that's all it could muster against Kingman North's starter Keygun Field and Petrauschke – who combined to strike out eight batters and allow only three hits.
"Keygun did his job out there on the mound for us," Chad Benson said. "He pitched a heck of a game and Noah came in and closed it out. Both great pitchers."
With the win, Kingman North advances to the District 9 Tournament Championship at 6 p.m. Thursday against the winner of Needles-Blythe.
While Kingman North obviously will face whichever team steps up to the plate, Reilly admitted he wants to see Blythe again after a 1-0 win in the first round of the tournament.
Nevertheless, the squad is ready to take care of business and clinch a spot at state.
"We got the win and let's go onto Thursday," Noah said.
More like this story
SUBMIT FEEDBACK
Click Below to: