Kingman's NSA fastpitch All-Star game set for Saturday

Originally Published: June 29, 2018 6 a.m.
KINGMAN – Many Kingman residents are familiar with All-Star baseball games in town, but not softball. That may soon change and the first step in accomplishing that goal is with Kingman's National Softball Association hosting an All-Star game for the 13-18 age group at 6:30 p.m. Saturday at Centennial Park.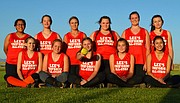 "We wanted to reach out to the public and try to spark some interest in people coming out," said Kingman NSA's John Mitchell. "Hopefully it's a competitive game. I really was hoping that there would be more than one game, but at this point it's just one game."
Mitchell also mentioned that next year Kingman could add an All-Star game for the 11-12 and 8-10 age groups, but nothing has been confirmed.
Nevertheless, Saturday's game could help create interest from the surrounding cities for an All-Star tournament rather than just one game.
"That would really fun if we could get Bullhead City, Lake Havasu and others incorporated in," Mitchell said. "But that's something down the road."
For those not familiar, Kingman's youth softball previously went by Amateur Softball Association (ASA) or Junior Olympic (JO), but that recently changed.
"This is a first-year for the NSA girls fastpitch here in town," Mitchell said. "It's kind of a big thing, but everyone is so used to the term JO softball, which JO is associated with ASA. It's one of those things of introducing something new to a town that's been so used to the ASA/JO girls softball. Now it's the NSA girls youth softball."
More like this story
SUBMIT FEEDBACK
Click Below to: