Prep Baseball: Vols win two; Academy uses big inning to defeat Bulldogs

Originally Published: March 1, 2018 7:33 p.m.
KINGMAN – With day one of the Big Red Construction Invitational in the books, the Lee Williams High School baseball team was the lone area squad to win both of its pool play games Thursday at KHS. The Volunteers found their bats in identical 7-1 victories over Mohave and Page.
Photo Gallery
Baseball: Big Red Construction Invite - March 1, 2018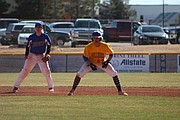 The Kingman High School baseball team hosted day one of the Big Red Construction Invite on Thursday at KHS. Pool play scores: Lee Williams 7, Mohave 1 - Lee Williams 7, Page 1 - River Valley 6, Kingman 1 - Kingman Academy 7, Kingman 2 - Gila Ridge 5, Kingman Academy 3 - Lake Havasu 6, Page 1 - Gila Ridge 5, River Valley 4 - Lake Havasu 4, Mohave 0. Photos by Beau Bearden.
"We came out both games and we were really aggressive at the plate," said Lee Williams head coach Patrick O'Boyle said. "We got some good pitches to hit and we did what we were supposed to do with them. We drove the ball, stayed through contact and kept putting pressure on them on the bases. It was nice to see that, especially the last couple of games where we struggled to get going early."
However, the game to watch Thursday afternoon was Kingman vs. Kingman Academy.
The Bulldogs jumped out to an early 1-0 advantage after David Lopez stole home while the Academy's infielders were trying to throw out Rilee Araya, who created a pickle situation before stealing second.
Following Kingman's run in the first, both teams were scoreless until the bottom of the third inning when a number of infield errors cost the Bulldogs.
The Tigers pounced on the miscues as they put up seven runs – with only one being earned against Kingman's starting pitcher Luke Ness.
"We weren't mentally prepared today," said Bulldogs head coach Chad Baitinger. "The younger kids were getting their heads down when they were making mistakes and they can't do that. We played great yesterday against a good team (Parker) and won. Then we came into today, expecting the same thing. These kids are still learning how to keep that mentality of winning, especially being so young. We have some work to do with that."
Academy's Kaden Bean picked up the win on the mound after yielding just one earned run on two hits with four strikeouts and two walks in four innings of work.
"Kaden pitched really well," said Tigers head coach Bill McCord. "It was nice – he kept us going on the defensive side."
Earlier in the day, Academy faced Gila Ridge and dropped a close 5-3 loss. McCord said the Tigers hung in there and are setting their sights on making it to the final day of the invite.
"I'd like to get into Saturday – that's our goal," McCord said. "Make it to Saturday and you get two more games."
The Bulldogs, on the other hand, are looking to put Thursday in the rearview mirror after losing both of their pool play games. Kingman suffered a 7-1 setback to River Valley in its opener and look to bounce back Friday with a 9 a.m. contest against Gila Ridge to close out pool play action.
"Tomorrow is big," Baitinger said. "If we come back tomorrow and win, it's going to show me a lot. I told them to forget about today and come back tomorrow – it's a brand new day."
Other pool play contests scheduled for Friday: Lee Williams vs. Lake Havasu at 9 a.m., River Valley vs. Kingman Academy at 11 a.m. and Mohave vs. Page at 11 a.m.
Once pool play concludes, tournament action is scheduled for 1 and 3 p.m. Friday at KHS.
More like this story
SUBMIT FEEDBACK
Click Below to:
This Week's Circulars
To view money-saving ads
For as little as $3.49*