Prep Tennis: Vols defeat Bulldogs, 8-1

Originally Published: March 1, 2018 5:52 a.m.
KINGMAN – The Lee Williams High School boys tennis team finally took the court Wednesday after Mother Nature canceled its first two dual meets of the season. The Vols didn't show many signs of rust though, as they picked up an 8-1 win over rival Kingman High at KHS.
Photo Gallery
Tennis: Lee Williams at Kingman - Feb. 28, 2018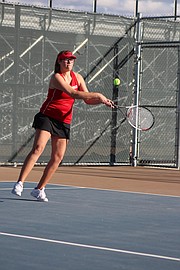 The Kingman High School girls and boys tennis teams hosted Lee Williams Wednesday afternoon. The Lady Vols won 9-0, while the Vols picked up an 8-1 victory. Photos by Beau Bearden.
"I've been anxious all year for the tennis season to come around," said Lee Williams' Jordon Freeman. "I've been training hard and it's good to back on the courts."
Freeman picked up a 6-1, 6-2 victory over Kingman's Xeth Walker in No. 2 singles. While the score didn't show it, Freeman had to battle for the win.
"(Walker) was hitting some good forehands, but I started figuring out his weaknesses at the end," Freeman said. "I started targeting that and it was game over from there. (But) he earned those wins, for sure. He had good shots."
Walker is only in his second year playing tennis though, and also was dealing with a bent racket. Nevertheless, he still has come a long way.
"I think I did a lot better," Walker said. "Last year I wasn't as good as I am this year. I've done a lot of practicing and I got a lot better. In a couple more years, I'll do even better."
In No. 1 singles, Kade Juelfs picked up a 6-0, 6-1 win over Kingman's William Whitten. Juelfs was glad to finally get a dual match in and also gave credit to his opponent.
"(Whitten) rallied really well," Juelfs said. "He had some good serves and some good shots. He did well."
In other action, Lee Williams picked up a win in No. 4 singles as Logan Rosenbach defeated Kingman's Jason Marquez by scores of 6-0, 6-0.
"It was really nice seeing everything that we've worked on," said Lee Williams head coach Adam Cvetich. "I've seen a ton of improvement and it was really awesome seeing it in the matches."
The Vols also won two doubles matches, while the Bulldogs picked up their lone win in No. 3 singles when David Hammond defeated Lee Williams' Carson Taylor, 7-5, 7-5.
While the Bulldogs had to forfeit two singles and one doubles match, head coach Todd Winebarger was pleased to see Hammond pick up a victory.
"I try to get them to be 'pushers,'" Winebarger said. "A 'pusher' is where you consistently get it in and make the other person make the mistake. David stuck with that and frustrated his opponent to the point where they're making the mistake instead. He followed that to a T and won. I'm impressed with how he handled that."
Kingman (0-1) faces Anthem Prep (2-1) at 3:30 p.m. Friday, while the Vols (1-0) travel to Mingus (1-1) Monday.
More like this story
SUBMIT FEEDBACK
Click Below to: