New Tastes of Kingman: Stuff It Burger among new restaurants opening soon
Originally Published: March 8, 2018 6 a.m.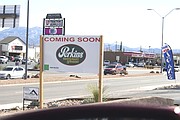 Larry Younce looked around for a good spot to open his Stuff It Burger restaurant and found an empty storefront on Stockton Hill Road, but he didn't want to compete with burger row.
There's In-N-Out, McDonalds, Five Guys and Carl's Jr., not to mention a slew of other fast-food joints in a two-block stretch.
"It took me five or six months going all over Kingman looking for an empty restaurant, but I didn't see anything I felt comfortable with," said Younce, who moved here with his wife, Leilani, from Southern Oregon about a year ago to be close to her daughter.
"I kept driving down Northern (Avenue) and thought, 'God, there's nothing out here.'"
That'll change around 11 a.m. Monday when you can stop by Stuff It at 2170 E. Northern Ave. for stuffed burgers to go. About 500 people have dropped by and asked when he's going to open, Younce said. He passed final inspection from county health and building officials.
Younce and his business partner, Iamen Dight, have invested about $40,000 converting the former 1,100-square-foot Sisters Gallery building into a restaurant, including a new ventilation and fire suppressant system.
"I've always wanted to open a hamburger stand," he said. "I always had a full-service restaurant for 45 years. This is just her (Leilani) and I and her daughter."
They'll offer four stuffed burgers – cheddar, mushroom and jack, blue cheese and bacon, and green chili, poblano and jalapeno – and one chicken sandwich stuffed with ham and Swiss cheese.
Stuff It Burger is one of several restaurants that have opened or are "coming soon."
Perkins
Rick Griffith plans to open his second location of Perkins Restaurant and Bakery in the back corner of Kingman Square Shopping Center sometime in November, though his lease for the land extends through June 2019 should he encounter construction delays.
He's celebrating the silver anniversary of Perkins in Bullhead City, and sees Kingman as a logical expansion for his franchise.
"A lot of my guests are from Kingman and they've been asking for a Perkins (restaurant) there for 15 years," said Griffith, who bought out his business partner six years ago and has plans to expand into Lake Havasu City a year after Kingman.
Perkins will construct a 5,000-square-foot "build to suit" restaurant within walking distance of the new Home 2 Suites hotel by Hilton that is nearing completion. Other hotels, including Comfort Inn, are in the planning stages.
"We can't wait to get in there. I'm excited about it," Griffith said.
Perkins was founded in 1958 and operates 400 restaurants in the United States and Canada. The company acquired Marie Callender's in 2006, famous for its fresh-baked pies and frozen meals that are now sold in major supermarkets.
The majority owners of Perkins & Marie Callender's Holding company are private investment funds managed by Wayzata Investment Partners.
El Paraiso
Brothers Justo and Efrain Lopez have been slamming it at El Paraiso Tacos and Burgers since they opened at 702 Eastern Ave. in late 2014. Lines on Taco Tuesday start when you come in the door.
Now they've outgrown their 700-foot taco stand where inside seating was limited to two tables and a counter, and diners were rubbing elbows with those in line.
They'll be closing on March 30 and building a new 2,000-square-foot restaurant at Gordon Avenue and Lomita Street that will seat 30 to 36 guests. It will have a drive-through for people on the go.
"We need more room for our customers," Efrain Lopez said. "People have treated us so good and we want to do something for their families. They've been coming in and they deserve something more."
On the way
Verde Building of Queen Creek has broken ground on a Dunkin' Donuts at 3535 Stockton Hill Road, south of Anderson Ford, with an expected opening in the spring.
TR Orr pulled a commercial permit in November to build a Dairy Queen at the vacated Paco's Tacos at 3152 Stockton Hill Road. The project value is estimated at $219,727.
More like this story
SUBMIT FEEDBACK
Click Below to: