How much do you tip? Gratuities can make or break your server's household budget

Originally Published: March 9, 2018 6 a.m.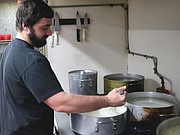 KINGMAN – It's no easy task finding someone who has no experience with restaurants, either as a patron or as a server, cook or busser. Since so many people are educated on the constant hustle it takes to work in the service industry, why are the tips they leave behind sometimes lacking?
"Some people tip the standard (15-20 percent), some tip higher and some lower, some won't tip at all," said the owner of a restaurant on Andy Devine Avenue who preferred to remain anonymous.
Carleta Barker has been a waitress for about a year and is currently employed at Vito's Italian Cuisine, 2775 E. Northern Ave. She said that one of the biggest components of being a server is often overlooked by customers.
"Consider that we aren't making minimum wage, we're basically living off our tips," she said. "For me, I run my tail off at this job."
According to the Industrial Commission of Arizona's website, law requires employers to pay employees receiving tips a minimum of $7.50 an hour, the expectation being that tips received will bring servers up to or above minimum wage at $10.50 an hour.
When a lacking tip is left, or absent altogether, servers may struggle to pay bills or feed families.
"I don't know how many people actually know that servers actually make under minimum wage, so they really rely on those tips to make a living," said Gary Sexton, manager at Vito's. "It's how they eat and support families. I don't think people really understand that."
Servers at some restaurants even split tips with bussers, cooks or hosts if the latter parties have been particularly helpful during their shifts.
A restaurant consists of many moving parts. A server doesn't seat patrons, take orders, cook the food and then bring it to the table. It's a team effort, and there are times when cooks can misread tickets. Whether patrons realize it or not, they, too, are a part of that effort. The anonymous owner said sometimes customers misread or misunderstand what they are ordering.
"Eighty percent of the time when that (poor tip) happens, it's not even the server's fault," the owner said. "But the server gets held accountable for it."
There are justifiable reasons to leave a less-than extravagant tip, after all, it's called the service industry for a reason. Poor service from a waiter or waitress may indeed warrant a poor tip.
The owner at the Andy Devine establishment said their most frequent complaint resulting in poor tips is in regards to drink refills. Clearly, another reason is due to poor service in general.
"The servers take it very personally when they don't get a tip," the owner said. "'What did I do? What did I do wrong?'" they ask.
"When I get bad tips it's mostly if I forget something or if I have a bad attitude," Barker said. "Which is rarely ever because I work with customers all the time. I'm with them every day."
Servers are trained by their employers to ensure customers are getting good service. While restaurants differ in their training practices, servers all receive training in one form or another. Sexton said at Vito's new employees are trained by those with seniority at the restaurant, allowing the new-hire to learn what does and doesn't work when it comes to serving.
The owner at Andy Devine gives employees basic tips and tricks for providing good service, the first of which is to "Think smarter, not harder."
The owner added that sometimes servers get patrons who "run them," meaning the server is constantly being flagged down for just one more thing. Rather than make 100 trips, the owner said, servers should think ahead and try to anticipate what items will be requested with certain meals because, "Time management is the most important thing with being a server."
"Sometimes you've run to that table 10 times when you have half a restaurant you have to man," the owner said.
Another component of serving deals with deciphering between justifiable and unjustifiable complaints.
"If it's a legitimate complaint, you take care of it," the owner said. "But if they clean that plate, come on, how bad could that food have been?"
Some customers wait for the bill and then make complaints afterwards, almost as if testing the restaurant to see what complaints will result in a free meal. That's why the anonymous owner tells employees to check back with customers within the first few minutes of receiving the food or within the first few bites.
"It's hard work to be on your feet for eight hours a day, carrying trays and bussing tables," the owner said of the serving industry. "It's definitely physical work."
More like this story
SUBMIT FEEDBACK
Click Below to:
This Week's Circulars
To view money-saving ads
For as little as $3.49*