State Briefs | $1 million bond for Arizona woman accused of trying to poison spouse
Originally Published: March 12, 2018 5:49 a.m.
$1 million bond for Arizona woman accused of trying to poison spouse
PHOENIX (AP) – A $1 million cash bond has been set for a Cave Creek woman accused of attempted murder for allegedly using anti-freeze to poison her husband last year.
Maricopa County Sheriff's officials say 66-year-old Connie Eskelson claimed she found her husband unconscious at their home on Aug. 21.
He was transported to the hospital and tests revealed a potential lethal dose of ethylene glycol, an active ingredient in anti-freeze, in his system.
Authorities say the man has fully recovered.
Sheriff's detectives say they tracked down several purchases made by Eskelson for lab grade ethylene glycol.
They believe she tainted her husband's drinks daily until he became ill.
Eskelson was arrested after being indicted by a county grand jury on Wednesday.
She didn't have a lawyer at her initial court appearance Friday.
Phoenix police ID man who was fatally shot after argument
PHOENIX (AP) – Police in Phoenix have identified a man who was fatally shot after an argument.
They say 23-year-old Joseph Long King was pronounced dead at the scene of the shooting shortly before midnight Friday.
Police say King had been loudly arguing with a woman in a car and a 29-year-old man and his wife felt compelled to help her.
The man grabbed his handgun before confronting Long, demanding that he stop yelling at the woman.
After Long got out of his car, the man told police he was briefly able to calm him down before Long punched him in the face.
The man then fired at Long, hitting him at least once.
Police haven't identified the shooter as of Sunday and say the incident remains under investigation.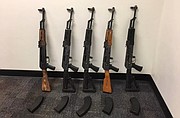 Nevada man arrested in Arizona with 5 assault rifles in car
TUCSON (AP) – Arizona authorities have arrested a Nevada man who was found with five AK-47 assault rifles in his rented vehicle.
The Arizona Department of Public Safety trooper reported discovering the weapons after stopping a sedan for a traffic violation on Interstate 10 near Marana.
The trooper was participating in a Department of Homeland Security program that grants funds to other law enforcement agencies to enhance and strengthen border security.
DPS officials say the 24-year-old Nevada man also had a small amount of cocaine in his wallet.
The man's name wasn't immediately available Sunday.
He was arrested for trafficking of weapons and authorities say the rifles were seized and the case turned over to the Bureau of Alcohol, Tobacco, Firearms and Explosives.
Phoenix police: Car crash into a tree leaves 1 dead, 1 hurt
PHOENIX (AP) – Authorities say one person is dead and another injured after a car crashed into a tree in Phoenix.
Phoenix police say officers responded to reports of a single car accident in the area of 35th Street and University Drive around 2:30 a.m. Sunday.
Police say the driver of the vehicle apparently hit a curb, lost control and crashed into a tree.
A 27-year-old man sitting in a backseat was thrown from the car and died at the scene while a 23-year-old man riding in the front seat is hospitalized.
Police didn't immediately release the names of the dead and injured.
Mesa police: Man wounded after shooting at pursuing officers
MESA (AP) – The Mesa Police Department says officers shot and wounded a man who fired at officers after refusing to pull over while driving a vehicle with an expired registration.
Police say no officers were injured in the incident Saturday and that the suspect was expected to survive his injuries.
The wounded suspect's identity wasn't released.
Detective Steve Berry said a police helicopter followed the man's vehicle to an apartment complex where the man jumped out and ran as officers chased him.
Berry said the man pulled out a gun and fired multiple shots at the officers, who fired back, hitting him at least once.
Border Patrol in Arizona seizes marijuana, 2 teens arrested
TUCSON (AP) – The Border Patrol says it has seized 135 pounds of marijuana worth an estimated $111,000 and arrested two Tucson teenagers who tried to flee from agents in downtown Nogales.
The patrol's Nogales station reported Friday that its agents on Thursday saw the two male teens loading several large packages into a minivan near the international boundary fence before traveling to a local grocery store parking lot.
When agents tried to stop them, the driver sped away and set off a chase through downtown before abruptly braking in front of the border crossing and bolting out of the van.
The two boys ages 16 and 17 tried to run away as U.S. border officials worked to catch them. They found the marijuana in the van.
Mom of dead Arizona toddler charged with 1st degree murder
TUCSON (AP) – Authorities say they've arrested the mother of a six-month old Arizona toddler because she allegedly knew the boy's father put blankets on the baby to muffle his cries.
Tucson Police Department says 31-year-old Tamara Fowler was arrested Friday for first-degree murder and three counts of child abuse.
Zechariah MacDonald, MacDonald's 22-year-old father, was arrested March 8 in the death after police and paramedics responded to reports of an unconscious child who wasn't breathing.
The Pima County Attorney' Office later upgraded the charge against the father from manslaughter to first-degree murder and three counts of child abuse.
When the child died, police said they determined MacDonald was watching his two children while their mother was working and placed blankets over Killian to muffle the noise so he could take a nap.
HS student arrested in for school shooting threat
TUCSON (AP) – Pima County Sheriff's deputies say a high school student has been arrested following reports of a threat that a shooting would be carried out at Mountain View High School.
The department said Friday that they responded Thursday evening to the reports about texts and posts on social media claiming there would be a shooting at the school the next day.
Sheriff's detectives working with school officials determined the threat came from a student who wanted to create an excuse for not going to classes Friday.
The department says the student has been charged with issuing threats and intimidation.
More like this story
SUBMIT FEEDBACK
Click Below to:
This Week's Circulars
To view money-saving ads
For as little as $3.49*