Mohave County Sheriff's seeking information related to Golden Valley armed robbery
Originally Published: March 13, 2018 10:06 a.m.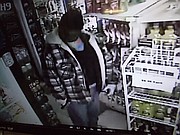 GOLDEN VALLEY – Mohave County Sheriff's Office is asking for any information related to an armed robbery at a gas station in Golden Valley Saturday night.
Deputies responded to a call from a woman working at the gas station at 5405 Highway 68 reporting the robbery had just occurred around 9:15 p.m.
Three male suspects entered the store, two wearing all black, and one wearing a flannel long-sleeve shirt. All three men were wearing gloves and had their faces covered from the eyes down.
One employee was forced to lay down on his stomach at gun point and the other was forced to open the cash registers and sit down while the men took money and cigarettes.
The suspects left the store on foot and headed east. The public is asked to call Mohave County Sheriff's Office at 1-800-522-4312 with leads.
SUBMIT FEEDBACK
Click Below to:
More like this story