Prep Softball: Lady Vols pick up first win of the season against Kingman High

Originally Published: March 14, 2018 7:19 a.m.
KINGMAN – It was a day of firsts for the Lee Williams High School softball team.
Pitcher Lauren Mastin picked up her first complete-game victory as a varsity player and head coach Melody Van Zandt won her first game at the helm of the Lady Volunteers in an 11-9 victory over rival Kingman High Tuesday at KHS.
Photo Gallery
Softball: Lee Williams at Kingman - March 13, 2018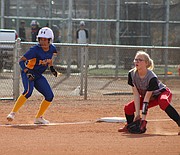 The Lee Williams High School softball team picked up its first win of the season Tuesday with an 11-9 victory over rival Kingman High at KHS. Photos by Beau Bearden.
To put the icing on the cake, Van Zandt earned the win over her alma mater.
"Honestly it feels good to beat them, but at the same time, it feels good just to win," Van Zandt said. "To me, it wouldn't have mattered if it was them or someone else. It was nice to win and these girls deserved it."
The Lady Vols put an end to a four-game losing streak, but it wasn't easy as the Lady Bulldogs continued to fight back. When the dust settled, Mastin held off Kingman's late rally to pick up the win in the circle.
Van Zandt could have changed pitchers late in the game, but she stayed with the sophomore.
"It gives me a lot of confidence because she believes in me so much," Mastin said.
That confidence carried over to the offense as the Lady Vols finished with 12 hits and nine RBIs.
"It felt like a good game for everyone," said Lee Williams' Kenzie Peterson. "We were all on, we all kept our heads up the whole time and we all kept cheering in the dugout. Everyone came in the clutch when we needed them. We had a lot of RBIs and all-around we had a very good hitting and fielding day."
Peterson had a great day at the plate, finishing with a team-high four RBIs and also scored a run. Courtney Janney added two RBIs for Lee Williams, highlighted by a RBI double in the sixth inning.
Kingman's offense found similar success, especially in the fifth inning as the Lady Bulldogs rallied for five runs to take a 7-6 advantage.
The Lady Vols responded though – using solid hitting in the sixth frame to take a 9-7 lead. The Lady Bulldogs were still in the game, but miscues cost them in the top of the seventh as Lee Williams extended its lead to 11-7.
"I was proud that we battled back," said Kingman head coach Craig Lee. "We hit the ball really well throughout the game. Offensively, we were sound. Pitching, we were OK. But the infield let us down in this game."
While the errors didn't help, the Lady Bulldogs rallied once again in the bottom half of the seventh as Morgan Stephens scored on a wild pitch and Ariana McKowan hit a pinch-hit RBI single.
The two runs weren't enough though as the Lady Vols held on for the win.
Kearra Tauta tallied two RBIs for Kingman, highlighted by an RBI triple. Hailey Talyumptewa also had two RBIs and Payton Chamberlain finished with an RBI. Stephens rounded out the top performers with three hits, including two doubles.
The Lady Bulldogs host the Coca-Cola Invitational this weekend at Centennial Park. Lee Williams, Kingman and Kingman Academy will be in action starting at 4 p.m. Friday.
"The tournament is going to help us a lot," Lee said. "We're going to bring up some younger girls. If we continue to have these problems, some girls are going to get experience in this tournament. That way if we have this problem down the road, we can do some different things if we need to."
More like this story
SUBMIT FEEDBACK
Click Below to:
This Week's Circulars
To view money-saving ads
For as little as $3.49*