Kingman International Film Festival comes to Route 66 Saturday

Originally Published: March 19, 2018 6 a.m.
The red carpet is rolled out. The paparazzi's camera flashes are going off. Actors and movie producers are walking the carpet to enter the venue. It may sound like the Academy Awards, but it's actually the Kingman International Film Festival.
Local filmmakers, Brian Brown and Victoria Remus combined forces to bring the city of Kingman a film festival. They have both worked previously with the Laughlin International Film Festival but decided to bring the experience home to Kingman.
"We want to bring something to the community and really embrace filmmaking," Brown said.
The festival is bringing out the whole Hollywood movie experience to Kingman. Brown says the festival organizers are having photographers, a backdrop and interviews on the red carpet.
"We're going to try to make it as classy and high-end as we can," Brown said. "A lot of people don't get to experience that."
The festival is a way to bring learning opportunities about the film industry to children or even adults that are interested in film, Brown said. Once children are exposed to film it can be a career they would want to pursue.
"If we can motivate someone, just a little bit at that age, even if they're in junior high or high school," Brown said. "(It's) just a helping hand to someone to realize their dream and their career."
Eight films will be showing from different countries like Cyprus, Japan and Germany as well as from all over the United States. Films such as "The Terminizer Zero," "The Love Suckers," "Western Jubilee: Keeping Cowboy Music Alive" and other films. The films selected for the festival are from different genres such as comedy, crime and experimental.
"These are indie (independent) films, so they're not on Netflix," Brown said. "It's the one chance to see these great films."
"Ultra Low" is one of the films that will be featured at the festival. The film is a unique narrative that takes an unorthodox approach to a classic adventure by placing the real people who lived the story into the film, said director of "Ultra Low" Nicholas Gyeney.
"For an independent filmmaker, getting into quality film festivals can mean everything," Gyeney said.
The movie stars, Lauren Holly ("Dumb & Dumber"), Tami Stronach ("The Neverending Story"), and Yuji Okumoto ("Karate Kid II").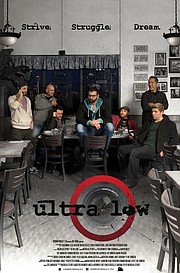 "Ultra Low hopes to be a film to inspire filmmakers and artists everywhere who might be feeling a little low on hope as they quest toward their dream," Gyeney said.
"The Terminizer Zero" is a mix of different genres. It's a science fiction, fantasy and action movie or what Director JP Frydrych calls a "scifantaction" movie. Frydrych came up with the name because most film festivals only let you pick a certain amount of genres.
"It's always very humbling and exciting to have a film accepted in a festival. My entire team is very grateful for being selected," Frydrych said.
"The Terminizer Zero" is a comedy and a buddy film. The main plot is about a killer robot and his friend that happens to be a talking blueberry pie.
The red carpet rolls out at 6 p.m. and the films start at 7 p.m. March 24 at Black Bridge Brewery (421 Beale Street). Tickets will be sold at the door for $10, and $5 for students. Anyone under the age of 21 must be accompanied by an adult.
More like this story
SUBMIT FEEDBACK
Click Below to:
This Week's Circulars
To view money-saving ads
For as little as $3.49*