Prep Baseball: Bulldogs can't find offense, fall to Chino Valley

Originally Published: March 20, 2018 8:09 p.m.
KINGMAN – The Kingman High School baseball team struggled to find its bats Tuesday and it proved costly in an 8-0 setback to Chino Valley at KHS.
"We've been working on hitting a lot, so it's discouraging," said Bulldogs head coach Chad Baitinger. "I don't think some of us are mentally prepared up there (at the plate), but we're going to fix it."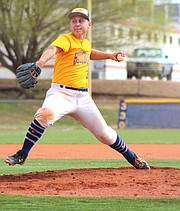 Kingman connected on just four hits in the game compared to the Cougars' 11 base knocks in both teams' 3A West Region opener.
Neither team showed much firepower early on as the game was scoreless after two innings. But then Chino (3-2, 1-0) put up three runs in the third and another five in the fourth to put the game out of reach.
The Bulldogs tried to rally on numerous occasions, but just couldn't find the offense to bring anyone home.
"If we would have scored early on, it would have been a different game," Baitinger said. "But at that point, all of our momentum was gone. With a young team like this, it's tough. They're still learning – I have three freshmen out there."
Rilee Araya, Anthony Fernandez and Coleton Padilla each connected on a single in the game, while Luke Ness laced a two-out double in the bottom of the sixth. Kingman looked to be in business after Araya was walked, but Hayden Tanner lined out to end the inning.
On a side note, it was the Bulldogs' first regular season contest since Feb. 28 when they picked up an 8-5 win at Parker. Kingman hosted the Big Red Construction Invite March 1-2 and then traveled to the Route 66 Classic in River Valley March 8-10.
Nevertheless, Baitinger felt the Bulldogs needed to relax at the plate and just play the game.
"They might be trying too hard or pressing," he said. "That's the thing I keep on trying to tell them, 'just go out there and be loose.' They play much better loose than when they're tight."
Araya was dealt the loss despite striking out 11 and walking only one in seven innings of work.
"I was impressed with the way Rilee pitched," Baitinger said. "That's a good hitting ball club – they always are. To go the distance, I was really proud of him for that."
Kingman (3-3, 0-1) returns to the field Friday for a 6 p.m. region contest at Odyssey Institute (5-1, 0-0).
More like this story
SUBMIT FEEDBACK
Click Below to: