Anti-Tobacco in schools for National Kick Butt Day
Originally Published: March 22, 2018 5:55 a.m.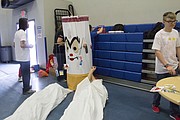 KINGMAN – Student's around the nation and state participated in Kick Butts Day, which is to encourage young people to be tobacco-free, reject tobacco companies, and help make the next generation tobacco-free.
Students at Kingman Academy of Learning High School, Kingman High School and Lee Williams High School participated in the nationwide movement.
KAHS students from the Kick Butt group had a banner for students to sign during lunch to pledge that they will be tobacco free. Students had bracelets, stickers and pins advertising #BeTheFirst.
Students also took a poll to see if tobacco had influenced someone in their lives. Students were able to make T-shirts that said how people they knew had died due to tobacco use. Some students also laid inside body bags to represent the lives affected.
Not only do cigarettes have an impact, but so do electronic cigarettes, vape pens, and jewels, Andrea Miranda, manager for the Kingman Youth Coalition Beating Up Teen Tobacco, said.

The banner will be taken to the local CVS drug store, 3501 Stockton Hill Road, to be hung at the store. Students in the club are also trying to talk with City Council members in Mohave County to raise the age minimum of purchasing tobacco from 18 to 21.
More like this story
SUBMIT FEEDBACK
Click Below to: