Every 25 minutes a baby is born who is addicted to opioids
Originally Published: March 22, 2018 6 a.m.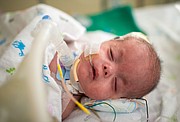 Two babies are born every day in Arizona craving something with a little more punch than mother's milk.
These babies have a valid reason to cry, beyond being pushed from the comfort of their womb into this cold, cruel world.
They're the tiniest victims of the opioid crisis that's sweeping the nation and particularly Mohave County, which has been identified as one of Arizona's top five counties for opioid overdoses.
Babies born to mothers hooked on heroin, methamphetamine and opioids suffer from Neonatal Abstinence Syndrome, or NAS, and have difficulty withdrawing from drug dependency, said Tara Sundem, registered nurse and co-founder of Hushabye Nursery in Phoenix.
She's leading a free presentation on NAS from 9 a.m. to noon Tuesday at Mohave County Administration Building, 700 W. Beale St.
It's a collaboration between Mohave County Superior Court's team for maltreatment of infants and toddlers and First Things First, an organization dedicated to the development and learning of Arizona children from birth to age 5.
Sundem will talk about NAS signs and symptoms, treatment, pathophysiology, identifying developmental risk factors, prognosis and teaching caregivers how to cope with affected babies.
"I think the biggest thing right now is destigmatizing opioid disorders," Sundem said in an interview from Phoenix.
"Everyone needs to realize that they probably know somebody using opioids and they don't talk about it. It's a brain disease. Nobody chooses opioids. Until we improve access to care and destigmatize addiction, it's truly where we need to go."
To register for the training, go to www.eventbrite.com/e/the-tiniest-victims-of-the-opioid-crisis-tickets-43177496053.
Staggering numbers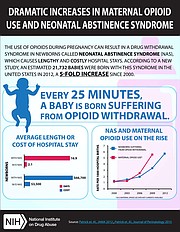 There were a total of 1,472 cases of NAS in Arizona from 2008 to 2013, and the rate has increased 235 percent, Sundem said.
Arizona Health Care Cost Containment System (AHCCCS) paid for 79 percent of those births at an average cost of $31,000 for infants with NAS, compared with $2,500 for babies without NAS.
Nationally, the number of babies suffering from opiate withdrawal at birth is staggering.
A new study found a five-fold increase in newborn dependency from 2000 to 2012, when an estimated 21,732 infants were born with NAS, or one every 25 minutes, according to the National Institute on Drug Abuse.
The rate jumped from 1.2 babies born with NAS for every 1,000 births in 2000 to 5.8 babies in 2012. Similarly the rate of pregnant mothers using opiates rose from 1.19 per 1,000 births in 2000 to 5.63 in 2009.
Newborns with NAS stayed in the hospital for an average of 16.9 days, compared with 2.1 days for babies without the syndrome, the national institute reported. Hospital costs for those babies average $66,700, compared with $3,500 for normal babies.
They're also more likely to have low birth weights and respiratory complications.
The majority (81 percent) of hospital costs for opioid babies were paid by state Medicaid programs, reflecting the greater tendency of opiate-abusing mothers coming from lower-income brackets, the National Institutes of Health reported.
"NAS incidence and hospital charges grew substantially during our study period," authors of the NIH report wrote in their conclusion.
"This costly public health problem merits a public health approach to alleviate harm to women and children. States, particularly, in areas of the country most affected by the syndrome, must continue to pursue primary prevention strategies to limit the effects of opioid pain reliever misuse."
Fragile infants
Babies that are withdrawing from opioids are fragile and have difficulty sleeping for more than a few minutes at a time, Sundem said.
They suffer from vomiting, diarrhea, tremors, sweating and are at risk for seizures. They may have excessive crying, skin breakdown and poor feeding.
"Initially, we try to do developmental care and keep them with their moms," Sundem said. "Believe it or not, the babies do better with mom, even if mom is addicted. If we can keep mom safe with the baby, that's the ideal treatment at the very beginning."
Sundem, from Hartford, South Dakota, received her Bachelor of Science degree in nursing at Mankato State University in Minnesota, and moved to Mesa following her graduation to work in neonatal intensive care at Banner Desert Medical Center.
She earned a Master's degree from Arizona State University, then obtained her certification as a neonatal nurse practitioner, focusing on Neonatal Abstinence Syndrome.
"Two years ago, just like everybody else, I thought, 'Why don't these pregnant moms just stop?' That's not recommended. The recommended treatment is to start them on medical assistance treatment, methadone or Subutex," Sundem said.
"Everybody thought mom could go cold turkey. She'll probably lose the baby. She'll go through withdrawals and so will the baby, and that's traumatic. These moms didn't plan on being addicted, and they didn't plan on getting pregnant."
Cheap meth
Some drugs are more likely to cause NAS than others, but nearly all have some effect on the baby. Opiates such as heroin and methadone cause withdrawal in over half the babies exposed prenatally, according to a study from Stanford Children's Health.
Cocaine may cause some withdrawal, but the main symptoms in the baby are due to the toxic effects of the drug itself.
Patricia Hockingberry, director of perinatal services at Kingman Regional Medical Center, said the hospital delivers 50 to 60 babies a month, and reports eight to 10 babies to the Department of Child Safety.
KRMC reported nine babies diagnosed with NAS to the state since the reporting started in June 2017.
"It's definitely getting worse," Hockingberry said. "We've had the problem in Kingman for some time, not just opioids, but alcohol and nicotine and marijuana and methamphetamines. Meth is a huge problem in Kingman because it's so cheap."
It's not so much withdrawal symptoms of NAS babies, but how many of them will have developmental problems, the KRMC nurse added.
"All of those babies will have some experience that's challenging to overcome," she said. "Feeding, growth, developmental milestones may be delayed. Things you expect like rolling over, sitting up and eating."
Mohave County now offers the SENSE program (Substance Exposed Newborn Safe Environment) for families referred by the Department of Child Safety after the birth of a substance exposed infant.
More like this story
SUBMIT FEEDBACK
Click Below to:
This Week's Circulars
To view money-saving ads
For as little as $3.49*