Kingman's Shirley Bowers races across 50 states

Originally Published: March 25, 2018 6 a.m.
KINGMAN – Shirley Bowers ran her first half marathon in Phoenix, but it wasn't quite enough of a thrill. So the Kingman resident set out on a quest to run in all 50 states and accomplished her goal Nov. 18, 2017 in Philadelphia.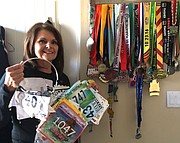 "It took me nine years," Bowers said. "Completing it was the most awesome feeling ever. It was hard. It was not easy. There were times my niece and I ran together. We ran seven states in a week – one right after the other. That's pretty hard on your body."
The physical toll alone would be tough on anyone, but halfway through Bower's journey she started to have knee issues.
"Sometimes they would lock up and I would just walk," Bowers said. "But I would finish."
Bower's doctor in Flagstaff told her she could keep running if she could endure the pain and that's exactly what she did.
"After I finished my 50 states, he congratulated me on my Facebook," Bowers said of her doctor. "He said, 'I didn't know you had that much strength to do it."
Bowers also had a lot of other help along the way including her trainer Anna Shuffler.
"She kept me going," Bowers said. "I worked out with Anna just about every day of the week. You have to get your body strong in order to do this. I kept my legs strong so that my knee would stay in place to finish."
Bowers added that Shuffler was her strength and would be there to make sure she kept running.
Along with Shuffler, Bowers had her niece Marlys Morton, running partner Patty Pane and son Chris who is a physical therapist at KRMC.
"When I first started running, he would be out there cheering because he knew how much it meant to me," Bowers said. "I've just had a lot of exceptional people by my side to get me there. It's been a joy. I've had good friends because of it."
While she gained a lot along the way, Bowers also faced a number of obstacles including her husband passing away and having a tumor removed. Despite the setbacks, she continued to keep going and couldn't be happier that she never gave up.
"It's a big achievement and I'm glad I did it," Bowers said. "At least I can say I finished and accomplished that. Now I want to ride my bike through all 50 states."
That is a goal that she can no doubt accomplish, but running will always have a special place in her heart.
"Running just gives you so much inner-strength," Bowers said. "It kept me sane. It's my best friend."
More like this story
SUBMIT FEEDBACK
Click Below to:
This Week's Circulars
To view money-saving ads
For as little as $3.49*