Prep Tennis: Bulldogs battle, but fall to Vols

Originally Published: March 28, 2018 2:41 p.m.
KINGMAN – While the final score may not have shown it, the Lee Williams and Kingman high school boys tennis teams put on a show Tuesday in their second meeting of the season. The two squads battled to five tiebreakers in singles and doubles play, but the Vols were victorious 9-0 over the Bulldogs at KHS.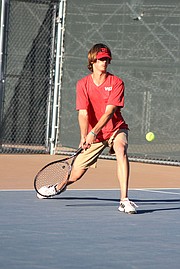 "It's good to be that competitive with the other team," said Lee Williams' Jordon Freeman. "Kingman definitely showed up to play today."
Freeman was also ready to play Tuesday and he had to be after battling into two tiebreakers at No. 2 singles. Kingman's David Hammond won the first 7-5 and then Freeman tallied a 10-7 victory in the second tiebreaker to take the match after winning the first set 6-2 and tying 7-7 in the second set.
Freeman said he definitely didn't expect to play that long, but explained why he was out on the court for so long.
"I was just trying to be as aggressive as possible and it lost me a few points in the end," Freeman said. "You slowly get better with those shots - get more accurate and get more of them in."
Even Vols head coach Adam Cvetich liked to see Freeman try some different approaches.
"This is probably the most aggressive I've ever seen him play," Cvetich said of Freeman. "It's really exciting. He's trying lots of new stuff and it is fun to watch."
On the other side of the net, Kingman head coach Todd Winebarger was glad to see improvements from the Bulldogs, but wanted them to finish the job.
"We just have to get over that hurdle to win the match," he said. "The next time they get in that situation, hopefully they'll be a little tougher and hold their ground. Not make the mistakes when the match is on the line."
The other matches to go into tiebreakers were No. 3 singles, No. 4 singles and No. 1 doubles.
Lee Williams' Matthew Popeil battled to a 3-6, 6-4 (10-3) win over Kingman's William Whitten at No. 3, while Joseph Walker picked up a 4-6, 6-2 (14-12) win for the Vols over Kingman's Jason Marquez at No. 4 singles.
In No. 1 doubles, Lee Williams' Carson Taylor and Logan Rosenbach tied 8-8 with Hammond and Whitten before winning 13-11 in the tiebreaker.
The rest of the matches were just as fun to watch as Cvetich mixed up his starting lineup to get others playing time. While that helped in some regards, it also made for more coachable moments.
"There were definitely some times where they were playing more aggressively and more decisively," Cvetich said. "That's always an exciting thing to see. There were sometimes where I said, 'Did he really just do that shot?' But that stuff happens all the time when you're rusty."
Other scores included a 6-1, 6-0 win at No. 1 singles for Lee Williams' Kade Juelfs over Kingman's Xeth Walker and Marco Narvarte rounded out the Vols' singles play with a 6-1, 6-3 victory over Kingman's Gio Suarez-Castro in No. 5 singles.
In No. 2 doubles, Popeil and Narvarte defeated Walker and Marquez by a score of 8-5.
The Bulldogs forfeited No. 6 singles and No. 3 doubles.
Lee Williams (4-2) opens Division II, Section III action at 3:30 p.m. today against Buckeye Union (0-8, 0-1), while Kingman (0-7, 0-1 Division III, Section VI) travels to Page (3-2, 1-0) Friday for a 3:30 p.m. dual section match.
"There have been big improvements," Winebarger said. "I'm definitely pleased. The more reps they get in practice and the more game experience they get, they're just going to get better."
More like this story
SUBMIT FEEDBACK
Click Below to: