Prep Tennis: Lady Vols hold off Lady Bulldogs, 8-1

Originally Published: March 28, 2018 2:42 p.m.
KINGMAN – The Lee Williams High School girls tennis team continued its hot start Tuesday by picking up its fifth win of the season in an 8-1 victory over rival Kingman at KHS. While the Lady Vols have shown their dominance so far, they have yet to be tested by a section opponent.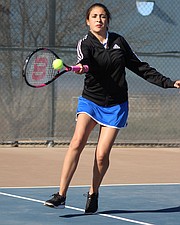 "It's a good way to start the season, obviously," said Lee Williams head coach Haylee Tetrault. "We have some tough matches coming up, but we're excited to see competition in our section."
The early success no doubt helps the Lady Vols and the confidence is apparent throughout the lineup. At No. 5 singles, Arden Schickner picked up a 6-1, 6-2 win over Kingman's Alyssa Soto.
It's Schickner first year on varsity and she put in a lot of time on the court to get here.
"I worked all summer," Schickner said. "It meant a lot to me to get on varsity this year. I was so happy. You just have to work super hard."
Schickner joins two other Lady Vols who were JV players last season and Tetrault is happy to see their determination pay off.
"They're really improving after playing a lot over the summer," she said. "That's where the stuff counts. The more tennis you play, the better you're going to be."
That's also the case for the Lady Bulldogs as head coach Greg Chastain has watched Nos. 1-6 get better. That was apparent after No. 6 singles player Annie Stockstill defeated Lee Williams' Melissa Thornton by scores of 6-3, 7-6.
"Our Nos. 4, 5, 6 have really been competitive the last couple of weeks," Chastain said. "I would have to credit our competitions. We have competitions every week of who's moving up and who's moving down. That being in their head is really helping them out."
Kingman also put up a fight in a few other matches as Denise Wiley dropped a 6-3, 6-2 loss to Lee Williams' Faith Nielsen at No. 1 singles, while Kingman's Cassidy Abramson fell 6-3, 6-2 to Lee Williams' Paige Cody at No. 2.
"The competition has made our girls a lot better this year," Chastain said. "Our record might not show it, but looking at how our scores are improving game after game."
Kingman's Alyssa Cedillo may have dropped her singles match to Lee Williams' Gaby Villar, but she learned a lot from it as well as her doubles match despite her and Wiley falling 8-4 to Nielsen and Cody.
"Personally, it helped me and it probably helped my whole team in general because they're a good team," Cedillo said of Lee Williams. "We learn from them and they kind of learn from us. It's like a compromise."
Lee Williams' Kaylee Morely rounded out singles play by defeating Serenity Sawyer at No. 4 singles, 6-1, 6-0.
In doubles, Villar and Morely won 8-0 against Abramson and Sawyer at No. 2, while Schickner and Thornton picked up an 8-2 win over Stockstill and Soto at No. 3.
The Lady Vols (5-1) open Division II Section III action at 3:30 p.m. today on the road against Buckeye Union (2-6, 0-1), while the Lady Bulldogs (0-6) host Page (3-2, 1-0 Division III, Section VI) in a section match at 3:30 p.m. Friday.
More like this story
SUBMIT FEEDBACK
Click Below to:
This Week's Circulars
To view money-saving ads
For as little as $3.49*