Council, citizens act as yellow light in red light camera discussion

Originally Published: May 3, 2018 3:05 p.m.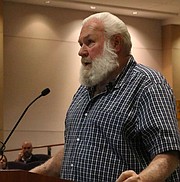 KINGMAN – Council was on common ground with citizens Tuesday night in its decision to remove red light cameras from the consent agenda and allow for additional discussion and citizen input.

Red light cameras were first discussed at Council's work session March 6. The goal for implementation is to decrease traffic crashes and provide supplemental enforcement options. According to national crash reduction statistics referenced by Chief Bob DeVries, Kingman Police Department, red light cameras reduced red-light running crashes at 13 enforced intersections anywhere from 33 to 35 percent.
DeVries discussed three possible locations in Kingman where cameras could be installed. Those include three intersections on Stockton Hill Road: Airway Avenue, Detroit Avenue, and Hualapai Mountain Road. Staff said the cameras, if installed, would not be concerned with vehicle speed.
However, many who spoke Tuesday weren't impressed about the cameras themselves or about their placement on the consent agenda.
"I'm not going take a stance for or against cameras, mine's about the democratic process," said Doug Dickmeyer. "This is new business. Kingman's never had anything like this before; it should not be on the consent agenda. It should be under new business where the citizens have the right to have input."
Council took no action on red light cameras Tuesday, but instead decided to bring the item back for discussion under new business at its May 15 meeting.
Residents continued to relay their concerns to Council, most of which dealt with operational issues with the cameras such as the point at which photos are taken as vehicles cross through intersections. Another concern was about what Interim City Manager Jim Bacon called "short-cycling the lights," or shortening the yellow-light time.
"I assure you the City staff is not interested at all in that happening, and there are techniques available to our public works to ensure that doesn't happen," Bacon said.
Mayor Monica Gates had issues with the contract itself, as well as with the proposed company with which the City would enter into an agreement, American Traffic Solutions.
"When I googled American Traffic Solutions, the first three hits had the word 'lawsuit' attached to the name," Gates said. "Obviously this is quite controversial, so I want to maybe proceed with a great deal of trepidation."
She also noted language in the agreement read that if the City were to adopt, then relocate or remove the cameras, it could be charged $150,000.
Councilmembers Vickie Kress and David Wayt suggested staff look at Arizona cities comparable to Kingman to see what successes and failures they have experienced. Wayt also asked DeVries to bring back information on financial implications and contractual obligations.
Councilman Travis Lingenfelter believes the City needs to take steps to reduce traffic accidents, injuries and fatalities. He said the solution may not necessarily be red light cameras, but that something must be done.
"I don't care personally if it's this or some other sort of solution that gets to that outcome," he said of reducing traffic accidents. "But we have to do something about the accidents and the fatalities and the injuries that are happening at our intersections. There's a safety issue."
More like this story
SUBMIT FEEDBACK
Click Below to:
This Week's Circulars
To view money-saving ads
For as little as $3.49*