Obituary | Lamar Robert Fenstermacher
Originally Published: May 4, 2018 6 a.m.
On Wednesday afternoon, April 25, a wonderful and kind man named Lamar Robert Fenstermacher was called home. Lamar was born April 7, 1932, in Pottsville, Pennsylvania, to Norman Joseph Fenstermacher and Helena Maria Schaeffer Fenstermacher.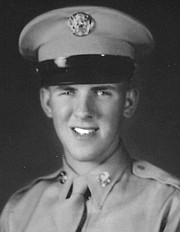 In his youth, he was an inquisitive little toe-headed blonde boy who loved working on crystal tube radios with his grandfather whom he called, "Old Pappy." He built pinewood derby box cars and raced them with his dad and Old Pappy's help.
As he advanced into his teen years, he loved the sport of boxing and was a pretty good boxer himself. He painted murals on some of his high school's walls with his principal's permission, who thought he was a very good artist.
After high school, Lamar entered the United States Air Force and served in the Korean War going to the Philippines and to Okinawa, Japan, and was also stationed at bases in California and Texas.
After his four years of military service, Lamar went to college to train as an engineer (his dream was to be an aerospace engineer with NASA), but his father passed away unexpectedly, leaving his mother and his 12-year-old sister (Carol) on their own. As a result, his NASA dream was cut short and he went to work for the Bell Telephone Company (known as "Ma Bell") as a facilities assigner engineer and retired after giving 35 years of service to the company.
Lamar married Dorothy Elaine Rudeen in December of 1957. Lamar and Dorothy ("Dudy") had two daughters; Lisa Ann born in 1958 and Sharen Lee born in 1961. Lamar loved to take his family to the New Jersey shore every summer for two weeks for our family vacations staying at Oceanville Campground. He loved to go fishing in the ocean and the inlets to catch fresh flounder. He also liked to build model cars, airplanes and boats.
Lamar is survived by his wo daughters: Lisa Ann Fenstermacher Anderson (spouse, Robert Anderson) and Sharen Lee Fenstermacher Fisher (spouse, Daniel Fisher); nine grandchildren: Krista Marie Anderson Smith (spouse, Justin Smith), Kyra Elaine Anderson Davis (spouse, Benjamin Davis), Keven Lamar Anderson (spouse Hailey Marie Phelps Anderson); Ethan Robert Anderson, Lee Michael Anderson, Nancy Jean Anderson Cordero (spouse, Alex Enrique Cordero), Lynnea Marie Fisher Syddall (spouse, Taylor Syddall), Eric Daniel Fisher, Jessica Lee Fisher; and nine great-grandchildren: Brooke Genece Smith, Isaac Robert Smith, Landon Charles Davis, Katelyn Jane Davis, Allyson Ann Davis, Ryker Lamar Anderson, Riley Marie Anderson, Evelynn Rose Syddall, and Quinn Alejandra Cordero.
The family wishes to give a heartfelt thanks to the wonderful and kind caregivers and staff at the White Cliff Memory Care Center where Lamar lived for the last three years of his life. They were his angels on Earth and so greatly appreciated by him and by his family.
As one of Lamar's granddaughters (Kyra Davis) wrote recently: "It's a bittersweet day for us as our Grandpa Fenstermacher passed away this afternoon (April 25). The last few years he had been suffering from Alzheimer's, a congestive heart and diabetes – so death, in its own way, has set him free. Grandpa will be remembered for his creative storytelling, artistic talent, paper airplane making skills, and his quiet voice and low raspy chuckle. He now gets to be with his wife and many others who have passed on. So, we won't let ourselves be sad for too long as we're sure his is enjoying a heavenly reunion."
Lamar was a member of the Church of Jesus Christ of Latter-day Saints (Mormon). He will be buried in the Mountain View Cemetery beside his beloved wife Dorothy, who passed in 2013.
May your light and goodness shine on forever and may eternity be your crowning joy. And so, we say goodbye to Lamar for now – a beloved husband, father, grandfather, great-grandfather, and dear friend to many. We miss you Lamar, but take great comfort in knowing we will one day be reunited with you again.
Arrangements were placed under the care of Lietz-Fraze Funeral Home and Crematory.
Thoughts and condolences may be submitted to the family at www.lietz-frazefuneralhome.com. To send a free card to the family, go to www.sendoutcards.com/lietzfraze.
More like this story
SUBMIT FEEDBACK
Click Below to: