State Roundup: Lady Tigers end season with loss to Benson
Baseball: Tigers late rally falls short in 5-3 loss to Willcox

Originally Published: May 5, 2018 4:20 p.m.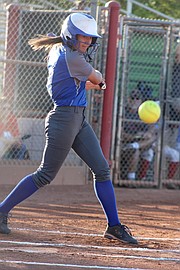 PHOENIX – The list of accomplishments for the Kingman Academy High School softball team was quite impressive in 2018 – the first postseason win in program history, a Coca-Cola Invitational title and three Lady Tigers signing to play college ball.
Unfortunately, Academy couldn't add to that list Friday as its season came to an end with a 14-0 loss to No. 1-seed Benson in the quarterfinals of the 2A State Championship at the Rose Mofford Softball Complex in Phoenix.
"I'm just so proud of the girls and the way they battled all year long," said Lady Tigers head coach Tim Pena. "We won some good tournaments, we played some good teams and played well. Tonight wasn't our night. There's a reason why they're 18-0. They are a good program. We just couldn't make any adjustments at the plate and they kept us off balance."
No. 8-seeded Academy couldn't find any success against Benson's starting pitcher Katie Sherman as the junior no-hit the Lady Tigers and allowed only one runner to reach base with a walk to Jillian Winters to start the game.
"She had a good drop ball, a good screw ball, a good rise ball and a good changeup," Pena said of Sherman. "She kept us off balance all night long. When we did put the ball in play, we just couldn't get it out of the infield."
Benson, on the other hand, didn't have issues putting the ball in play as it finished with 11 hits, including three doubles.
Maryssa Edwards was dealt the loss after yielding five earned runs on 10 hits with three strikeouts and three walks, but Pena felt she did well in the circle.
"Maryssa threw a really good game," Pena said. "They had maybe two to three hard-hit balls. Everything else was on the ground and they short-gamed us. We just couldn't cover it."
At the end of the day, the Lady Tigers know how much they accomplished this season.
"We're all happy," Edwards said. "Of course we wish we could have gone all the way, but I don't think any of us are hanging our heads. This is the last time we'll play together and the last everything. It was amazing – I wouldn't have anyone else backing me up on the field."
The Academy finishes the season at 12-6 overall and graduates seven seniors in Edwards, Winters, Kassidy Campbell, Chloe Elliott, Jessica Plew, Tori Salem and Shaunti Short.
But Pena knows this isn't the end of great things for this group of Lady Tigers.
"This game is nothing compared to them going to college and becoming a active person in society, chasing dreams of being a doctor or dentist," Pena said. "That's all that matters to me. A game is a game. I'm really excited for them."
Baseball
Willcox 5, Kingman Academy 3
At Goodyear Baseball Complex, the Kingman Academy High School baseball team rallied for two runs in the bottom of the sixth inning Friday, but it wasn't enough in a 5-3 setback to No. 2-seed Willcox in the first round of the 2A State Championship.
The No. 15-seed Tigers started their rally in the sixth with Ryan Hurley reaching on an error and then taking second on the same miscue.
Academy's Kaden Bean made the Cowboys pay for their mistake as he laced a double to center field to score Hurley.
A few batters later Kannon Butler scored on an error by Willcox's center fielder to bring the Tigers within two runs, 5-3.
That was as close as Academy could get despite having two runners on and only one out in the bottom of the seventh.
Hurley and Bean led the Tigers with two hits apiece, while Bean tallied the team's lone double of the game.
Bradley Hecker was dealt the loss after he allowed two earned runs on eight hits with two strikeouts and one walk in a complete-game effort.
Willcox jumped out to an early 4-1 advantage after three innings before Academy scored its first run in the bottom of the fourth.
The Cowboys added an insurance run in the top of the fifth before the Tigers rallied for two in the sixth.
Academy finishes the season at 13-6 and will graduate five seniors in Butler, Hecker, Peter High, Donny Tatham and Kyle Dunton.
More like this story
SUBMIT FEEDBACK
Click Below to: