Juelfs medals in shot put for Vols at Division III State Championship
Academy's Skankey sets new personal record in 1,600-meter run

Originally Published: May 6, 2018 4:13 p.m.
MESA – Kael Juelfs couldn't have asked for a better ending to his high school career.
The Lee Williams High School senior stepped up on the biggest stage to set a new personal record in the shot put and take fourth Saturday during the Division III State Track and Field Championship at Mesa Community College.
Photo Gallery
Track & Field State Championship - May 4-5, 2018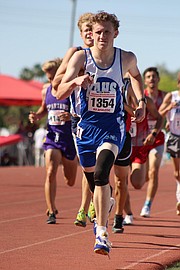 The Lee Williams, Kingman and Kingman Academy high schools competed at the track and field state championship Friday and Saturday at Mesa Community College. Photos by Beau Bearden.
"This will be something I'll remember for a long time," Juelfs said. "I worked hard and it's kind of cool to see hard work pay off."
Juelfs started off the afternoon by throwing 45 feet, 8 inches in the first round to earn a spot in the finals. But he wasn't done yet as he heaved the shot put 48-5 on the last attempt of his prep career to set a new personal record and clinch fourth place.
"I finally kind of broke the state curse that I've had," Juelfs said. " … It's good to finish with the best and then also get a medal. It's a pretty good end to a pretty good year."
Kingman Academy's Sam Skankey also finished his career on a high note Saturday – finishing 10th in the 1,600 meter run.
The senior was in the back of the pack of 26 runners, but he slowly moved his way up and finished strong despite battling a heel blister that appeared Friday.
"It was the last race of my career in high school, so I figured I might as well go all out," Skankey said. "I'm so happy I was able to make it here. I'm very honored to have run with such amazing runners."
Skankey proved that he was one of those amazing runners as his determination and grit was proven by his progress throughout the race.
"It worked out perfectly," Skankey said. "I would be happy to PR, but I'm happy that I was able to make such an improvement through the whole race."
Skankey didn't know it then, but he did in fact set a new personal record at 4:45.34 to cap his high school career.
Lee Williams' Enzo Marino didn't have to ride out into the sunset with Juelfs and Skankey, but he did end his junior year with a bang.
Marino picked up a pair of fifth-place finishes in the 110 and 300-meter hurdles and also set a new personal record in the 300 at 40.14.
But the bigger accomplishment for Marino was making into the finals of each event. He had competed at state before, but running with the best of the best was a different experience.
"They announced everyone and they got to me and then I heard my parents and the team yell my name," Marino said. "That put a little bit more pressure on me."
Marino did admit that he "kind of freaked out" at the end and starting hitting hurdles during the 110. Nevertheless, he was proud of the hard work paying off in the end. When he started out the season, he had no idea he'd accomplish what he did in 2018.
"At that point, it was just a dream," Marino said of the beginning of the season. "My time just kept getting better throughout the year. Then the reality starting hitting me that maybe I could actually be in the finals this year."
That was exactly what Marino did and his progress was no doubt rewarded with his finish. But as any successful athlete knows, there's more work to be done.
"I'm not going to lay my head down, but there are definitely some little adjustments I need to improve on next year," Marino said. "And that's what I'll do."
Other top finishers Saturday for Lee Williams included Sadie Snay moving up from No. 15 in the discus to finish fifth with a throw of 102-2. Snay capped her senior campaign with two top-five finishes in the discus and shot put.
Lee Williams' Alize Hecker, Alexis Hecker, Shayla Mayberry and Meah Wilson entered the 4x800 relay as the No. 18-seed, but made vast improvement with a 10:51.31 to finish 10th.
Kingman's Holly Tsosie capped her junior campaign with a 15th-place finish in the 3,200 at 12:18.18, while Lee Williams' Trysta Rucker finished 20th in the high jump at 4-8.
More like this story
SUBMIT FEEDBACK
Click Below to:
This Week's Circulars
To view money-saving ads
For as little as $3.49*