Prep Golf: Academy's Jake Scott finishes tied for 22nd at D-III State Championship

Originally Published: May 11, 2018 6 a.m.
KINGMAN – Jake Scott had a simple goal for the Division III State Golf Championship – finish in the top 25. The Kingman Academy High School sophomore went above and beyond that as he tied for 22nd during the two-day tournament in Tucson.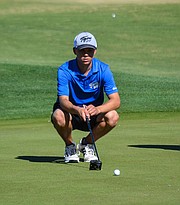 "I finished the regular season 42nd in the state, so I was just hoping I could beat at least some of the kids that are better than me," Scott said. "I thought top 25 was pretty good for my first time going to state. So I set a pretty high goal and I met it. I'm happy for that."
Scott started out day one with an 81 and followed it up with an 80 on day two for an 18-over par 161. However, he felt his fast start helped set the tone.
"The first day made me think I could compete with these guys, even though a lot of them have been golfing their whole life," Scott said. "I've only been golfing two and a half years. It definitely made me feel good, but brought me back down to reality after the second day."
He gained a lot from playing with the 90-best golfers in the state, especially considering it'll help him make improvements over the summer. Tigers head coach BJ Maticic believes Scott could easily be in the top 12 by next season, but Scott has higher aspirations.
"Next year my goal is to be in the top 10 for state," Scott said. "Then my senior year is No. 1, of course."
With Scott's determination, there's no reason he can't accomplish that goal.
However, Maticic thinks his showing at state will help the rest of the Academy golf team.
"I have a feeling next year there's going to be a little bit more dedication," Maticic said. "They'll want to try to get better and try to make it for us as a team."
That will even more be the case considering Scott received a number of messages from his teammates saying they were following his progress. Maticic said they were rooting from Kingman, but would have loved to have been in Tucson doing the same thing.
With more work during the summer, the other Tigers could instead be competing right alongside Scott. Only time will tell if that happens, but Scott knows what he needs to improve on for next season.
"I need to work on the mental aspect of my game the most," Scott said. "Because often times I do really well on a hole – I birdie it. Then the next one I tell myself I can do it again, but then it goes downhill from there. So definitely work on the mental aspect of my game and then just tidy some things up and I'll be playing great."
More like this story
SUBMIT FEEDBACK
Click Below to:
This Week's Circulars
To view money-saving ads
For as little as $3.49*