Former Kingman High School students reunite 'UOB' for 20 year reunion

Originally Published: May 12, 2018 4:56 p.m.
KINGMAN – Forming a band in high school seems like the dream of teenage boys in a Hollywood movie. It's hard work. You need to find rehearsal space, instruments and find the time to practice. For four friends from Kingman High School, this was their calling.
Wes Schrimsher, Nick Turner, Nate Fulps, and Casey Waits set up the band "UOB" in 1998. Schrimsher is lead vocals and bass guitar, Turner is the one banging on the drums, Fulps is the lead guitarist, and Waits keeps the tunes steady with his rhythm guitar.

It was the summer of eighth grade when it began for them. Some of the guys were taking guitar lessons at KHS, and the other had been playing drums his whole life. They began practicing as often as they could in their parents' garages.
The four band members became interested in music from different aspects of their lives. Some had influences from family members, and others were given an ultimatum.
"My parents had a requirement that you either had to play sports or take music lessons," Fulps said. "I chose music."
Turner grew up in a family of music lovers. His first concert he saw was Bon Jovi at 7 years old and ever since he wanted to play music. For Waits, his dad bought him his first guitar when he was 5.
In high school the band played some Nirvana and other similar music, but then they discovered punk rock and ska.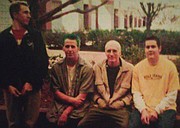 During their time in high school, UOB performed at various school dances and The House of Sound, where Beale Street Theater is located today. They were good enough to open for national and worldwide touring acts.
As high school came to an end, everyone went their own separate ways. Some moved away to other cities to pursue college or work.
"All four of us were heading in different directions, pursing their own lives, and living in different cities," Turner said.
Since high school, they have played a few times together in the spring of 2001 and again about 10 years ago.
Turner pursued a career in music. He has been a tour manager, drum technician, and has worked with artists like Travis Barker from Blink-182, Lady Gaga, John Legend and others. Schrimsher became a chiropractor, Fulps is a lead industrial radiographer, and Waits is a surgical registered nurse.
Fulps and Turner ended up living in Houston and started playing together. Schrimsher lives in Austin and would travel from time to time to play with his old high school band members.
"I always had it in my head that at some point I wanted to get the four of us together again," Turner said, "and see if we could recapture what we did as kids."
After performing for a while together, they thought if they could get Waits on board, then they could do a reunion show. The band has been practicing as much as they can recently. They even practice in the dark to challenge themselves.
"I will be a bit nervous," Schrimsher said. "More of an excitement than fear."
If there's any nerves coming from Turner, it would have to be four men in their 30s playing songs they wrote when they were teenagers.
"It's funny, as children we would spend days and nights in our parents' garages practicing as much as possible," Turner said. "Now 20 years later, we are doing the same thing."
UOB will perform its 20 year anniversary show at 7 p.m. Saturday at Black Bridge Brewery, 421 E. Beale St.
The band will have T-shirts for sale, and there is no cover charge.
More like this story
SUBMIT FEEDBACK
Click Below to:
This Week's Circulars
To view money-saving ads
For as little as $3.49*