Being a mother isn't easy, but at least these mothers have a generation or two of support

Originally Published: May 13, 2018 6 a.m.
A mother is someone who will laugh and cry with you, help and guide you and always support you and love you. Without our mothers, we wouldn't be here.
Motherhood is one of the hardest jobs in the world. It's painful, it's emotional, it's stressful, and it is one of the most important jobs. That's why today is the day to celebrate and appreciate and enjoy your mother.
Take the time to show mom how much you have enjoyed being their child, how much you appreciate everything they have ever done for you and will always continue to do.
Crystal and Sherrie
After a full day of hard, exhausting labor, Sherrie Finch gave birth to her firstborn daughter, Crystal Finch Brown.
"I was exhausted," Finch said with a glance at Crystal, "but when I saw her face I just thought 'Oh my gosh, this is the most beautiful thing in the world.'"
For Finch, that was the moment she realized she was a mother, the "most important job that you'll ever have."
Brown said her "I'm a mom" moment was when her eldest daughter Lainee was sick. "I was frantic because it was my decision whether to take her to the doctor or not," Brown said. "And after, I thought, 'This is my new life.' And I love it and wouldn't trade it for anything."
Finch said she never had a great relationship with her mother. Her mother was someone who didn't show much affection, and Finch can't recall a time when her mother said the words, "I love you." She didn't want to repeat that with her children.
"I've always told you guys that a lot," Finch said looking at Brown.
Brown said she learned how to be a disciplinarian from her mother, how to be stern but still show she loves her children.
"But still have them know I love them, and I've always been, and always will be, their biggest fan," Brown said.
The hardest part of having children is watching them hurt, Brown said, whether they are going through something with a friend or just something going on in their life.
"They are so silly to us, but to them, it is so serious, so important," Brown said. "You can't downplay it or tell them it isn't important."
The span of time in which you have children is a small window when they can truly be under your control, Finch said.
"Slow down and enjoy life, the house will always be there," Finch said. "Have more adventures, take more trips. We aren't making it out of this rich, so enjoy those moments."
Finch and Brown have had their ups and downs as mother-daughter, like when they fought when Brown was barely 3 years old or when they had a falling out a few years ago. However, they have always bounced back.
"Forgiveness is key in mother-children relationships," Brown said. "Motherhood is not always pretty, so it's important to forgive and love no matter what."
Lainee, 10, said the worst thing about her mother is when her mom cries, and Briley, 8, said the best thing is when they can snuggle each other.
"I fear that time when they push away from me as their mother," Brown said. "But I think that is where my faith will come in. I'll give it to God and let him take care of it."
Brown said Mother's Day is important to remember. To encourage other mothers, to say the exact words "You're doing a great job," to each other, to help each other.
"Love your mother and take care of her," Brown said. "She took care of you during the most crucial period in your life, so don't forget about her when she needs you the most."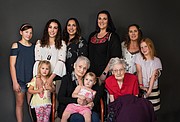 Jamie, Emily and Gina
Being a mother was the most important thing in Gina Sparks' life. She always wanted to be a mom.
"I wanted 12, but after three, decided it was enough," Sparks said with a laugh. "Becoming a mother is the most amazing and satisfying job you could ever have. There is nothing that compares to it in this lifetime. It brings you great joy when you get the blessings of your grandchildren. There's nothing better, and I am the mother of three amazingly beautiful children. I couldn't ask for better children. I don't know how I got so blessed to be their mother."
Her daughter Emilie Preston said Sparks was a good model as a mother, and because she took her job so seriously, all three children took it seriously. Preston said she tries to emulate Sparks' "hippiness" by encouraging her daughters to be individuals and to live freely.
"Guide, but not control," Sparks said. "Let them make their own mistakes."
Jamie Taylor, like her mother, always knew she wanted kids. She didn't have them until she was 30, but she knew she would raise them to be better people who give and not to take as much.
"You want to raise them to go and do well," Sparks said. "To survive and be happy."
"You have to teach them to survive (life's trials), and get them through it," Taylor said. "They have to deal with it on their own."
There is no textbook on how to be a mom and every single child is different. Taylor said you can never expect each child to be the same or raise each child the same.
"Don't compare yourself to other mothers," Preston said. "Take your time and enjoy (your children)."
It's important as a mother to be flexible because every day changes constantly. No plan is a good plan," Preston said.
Just encourage children to be themselves, to be individuals, to live freely, and support them in their endeavors. And always keep the lines of communication open, so children can feel they can talk to you about anything, or if they need a place to stay, they can call for help, Sparks said.
"Being a good mother is not for the unmotivated," Sparks said. "It takes all you have, all the time. No breaks, no on-again off-again. It's 24/7, always … when they are young, it takes all of you, all the time to help them, teach them, grow them. It's tiring and tireless."
Katrina, Mary Lou and Celia
For Katrina Steed, being a mother means being a good example and a role model for her children.
It's going to games and practice, encouraging and supporting them, taking trips and making memories that have mattered to Steed, as a mother and a daughter.
"We were never rich, but my memories of those trips, of those moments, makes me rich," Steed said.
Steed's mother, Mary Lou Galvan, said it is the most important role, and the "one I am most proud of."
"You will always be a mom," Galvan said. "My kids are all grown up, but they are still my babies."
Galvan said she was scared when she first became a mother. She was in Japan without her family around her, and she didn't know what to do.
"But your instincts kick in. You just want to take care of your baby," Galvan said.
Ceilia Ceniceros, Galvan's mother, said she is proud of her children. They are going over the same beliefs that she did, and to see each new generation is a blessing.
"Be proud of what they've done," Ceniceros said.
Some of those beliefs include giving back to the community, Galvan said. She learned from her mother, that no matter what, you can always give back. Steed said she does her best to keep her two daughters in a loving and positive environment, helps show them that family is important, like Ceniceros had taught.
"I never regret being a mother," Ceniceros said. "It's a very rewarding job."
Steed said part of being a mom is trying not to be too hard on yourself, to be forgiving and be kind. Appreciating the small moments because they are gone too soon, and the children are grown up to fast.
"Being a mom is a privilege," Steed said. "There are so many women that want to be mothers, but don't get the opportunity. We sometimes forget it's such an important role, so stop and enjoy it."
Today is about that privilege, about being a mother and embracing all that has to do with being a mother.
"Be glad you have one day to remember your mother," Ceniceros said. "One day when you to make that phone call and honor them."
Galvan said to take every moment you can to go do, to make memories with your family that they can cherish and share with their children. Places they can revisit and tell the stories of when they stopped there.
"Too many say 'I was going to go' or 'I want to go,'" Galvan said. "When you have the chance to do something with your children, just go do it. You can't replace those moments."
"You can't bring those days back," Ceniceros added.
"Make the effort to go," Galvan said. "Try to be there, if you can be there."
More like this story
SUBMIT FEEDBACK
Click Below to: