Prep Football: Bulldogs bonding during spring practice

Originally Published: May 16, 2018 5:38 p.m.
KINGMAN – Typically an athlete doesn't get pumped up to lift weights – it's more of a required effort to become bigger, faster and stronger. But a number of Kingman High School football players are showing just how excited they are to hit the weight room.
Photo Gallery
Kingman Bulldogs Spring Football - May 15, 2018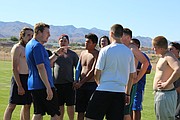 The Kingman High School football team was putting in work and learning fundamentals Tuesday afternoon on the practice fields at KHS. Photos by Beau Bearden.
"When we know we're doing a squat workout, they're in there yelling 'squat day,'" said Bulldogs head coach Cam Wierson. "How many high school football programs in Arizona do you walk into a weight room and hear kids on their own yelling 'squat day' like they're getting jacked up about it? We have that here."
That dedication was also on display Tuesday afternoon as the Bulldogs were putting in work and learning fundamentals on the practice fields at KHS.

"We're learning it now so during the summer we know the basics of it and we can turn the fire on like coach said – start going hard with it," Paul Jones said. "Start to recognize stuff like combo blocks. We can come up with names for that and we'll see how we're supposed to do it."
Jones knows it will also help bring the team together as a unit and everyone will be on the same page. That culture is what Wierson hopes to instill with the Bulldogs and he sees it coming along in his third season at the helm.
However, it could have likely been someone else leading Kingman High this season as Wierson was offered a head coaching job at Tucson's Marana High – where he was special teams coordinator and secondary coach during the 2012 season.
Instead, Wierson turned down the offer and one of the biggest reasons was his commitment to the Bulldogs.
"I didn't want to maroon these boys," Wierson said. "I felt if I left them I'd leave them on a cold desert island. I didn't want to leave these boys. In particular, the kids that have been with me from the start – they deserve my loyalty."
Wierson sought advice from a number of different football coaches in making his decision and ultimately his position coach in college and current head coach at Angelo State University Will Wagner helped him make a decision.
Wagner told Wierson to remain true to his beliefs and that's exactly what he did.
"I value loyalty above anything," Wierson said. "I want to prove to these boys that loyalty has a price and it has a reward. So I'm here to show them that. Hopefully 10 years from now when they're at a crossroads, maybe they'll value the loyalty of others like I do."
More like this story
SUBMIT FEEDBACK
Click Below to: