Prep Football: Vols showing great signs in the spring

Originally Published: May 19, 2018 3:49 p.m.
KINGMAN – When Clint Sasse took over as head coach of the Lee Williams High School football team three years ago, he looked forward to seeing this year's senior class.
Photo Gallery
Lee Williams football spring game - May 18, 2018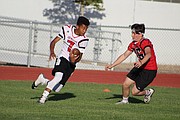 The Lee Williams High School football team hosted a 45-minute inter-squad scrimmage Friday night at LWHS. Red defeated White in a contest that went into overtime. Both squads traded multiple interceptions until Red finally scored the game-winning touchdown. Photos by Beau Bearden.
Now that the day has finally come, he couldn't be happier to talk about their progress during spring practice.
"We've been excited for this senior class for a while," Sasse said. "They were sophomores when we first started. We've been working with these kids a long time and we're really starting to see the effects of it now."
The Vols demonstrated their athleticism and talent Friday evening during a 45-minute inter-squad scrimmage at LWHS. The Red team ultimately defeated White 21-14 in an overtime thriller and it was a nice cap to two weeks of spring practices.
"Our entire age group has been waiting this whole time to play as seniors," said Lee Williams' Cameron Ott. "We've been waiting to be the oldest group out of the bunch. We're just ready to come out and play."
The eagerness to play was evident throughout the scrimmage that featured a large group of Volunteers dressed in their jerseys.
But it's not a surprise to Sasse and the rest of the coaching staff.
"We love what we're seeing – we're seeing a ton of carryover in the technique and the fundamentals," Sasse said. "We're seeing a lot of effort and a lot of enthusiasm from the guys. They're pumped to be out here and we have to tell them to go home after practice."
Only time will tell how the Vols make the transition into next season, but they are taking the right steps to excel on the gridiron.

"Our weight room has been great this winter and our kids are completely bought in," Sasse said. "That's really showing. We look more athletic, we look stronger and we look faster. That's just what the weight room gives you. There's not many secrets in this sport – it's get in the weight room and it'll pay dividends."
The Vols will also look to take advantage of a new offensive coordinator in Patrick O'Boyle.
"He's done a fantastic job installing the offense along with the whole staff," Sasse said.
More like this story
SUBMIT FEEDBACK
Click Below to: