Kaylee Sass is a superhero just like The Flash: fighting for her life

Originally Published: May 20, 2018 6 a.m.
Children are full of dreams, goals and aspirations. They want to be doctors, lawyers, teachers, or probably the next soccer star. Children can even think about traveling the world when they're older, or about if they want to have children of their own and get married. Their minds are full of imagination and curiosity.
For 9-year-old Kaylee Sass, she would love to travel the world and see different places, she would love to be a child on a little league soccer team, and she would love to run as fast as The Flash someday. However, she can't. Kaylee has a rare pancreatic condition where she is limited to participate in life experiences. She has to monitor how much she sweats, goes to the bathroom, and how much fat she eats.
Stephanie Sass, mother of Kaylee, says that at birth she was born with two gene mutations, one that caused her to lose one of her kidneys and the other that is breaking down her pancreas.
The gene mutation that Kaylee has is called the PRSS1 gene which causes her pancreas to work in a different way than what a normal pancreas. Her pancreas creates enzymes, but instead of those enzymes breaking down the food she eats they deteriorate her pancreas.
"She gets admitted (into the hospital) about once every three months for about two weeks to a month," Stephanie said. The disease Kaylee has it is hereditary and her father carries the specific gene but it effects everyone differently. Often people can go their whole lives without it affecting them until the later stages of life.
During her hospital stays there's times where she can't have any food whatsoever because her pancreas can't handle it so she has "attacks" or "flare ups."
"When the pancreas has had too much and it gets to the point where it swells and it hurts," Stephanie said.
Even the times when she has a zero fat diet her pancreas can't handle the work, sometimes even water is too much to handle. The last time she was admitted to the hospital she went 23 days without food and went two weeks with an IV with potassium going into her body. She had to go through the dry heaving, the stomach pains and the shakes, Stephanie said.
The Sass family spends a lot of holidays in the hospital by Kaylee's side. Together they have celebrated birthdays, Valentine's Day and Easter in the hospital.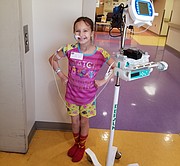 "A lot of her life has revolved around the hospital," Stephanie said. "Many of her photo albums are of her in the hospital."
During the night both Stephanie and her husband take turns to see if Kaylee is alive and breathing.
"We're so afraid of not finding her alive," she said.
Since there isn't much research, the last time they got out of the hospital they were told that it can be anytime Kaylee can pass away.

Siblings are a wonderful thing, Kaylee is lucky to have two of them plus her cousin that lives with them. Kaylee and her sister are 11 months apart. They may be opposites in personality but the same at heart.
"It's difficult," she said. "She cries all the time and says 'If sissy dies, I want to die.'"
Stephanie describes Kaylee as being a "total tomboy" she hates wearing dresses and likes playing in the mud and her sister loves makeup and is such a "girly girl."
Her medical condition is so rare that there has only been three cases in the state of Arizona including Kaylee's. The two other cases were both males. Stephanie says that since she is the first female in the state to have this condition there isn't much research on it. Medication is also an issue because there is none for the type of condition she has.
After Stephanie was laid off from her job and only her husband working, she has spent time researching on the PSSR1 gene, and which medical professionals have spent time researching into. She found a research clinic in Pennsylvania that only focuses on genetics of the pancreas.
"They are willing to see her," Stephanie said. "But I can't financially afford to pay for everything."
The consultation alone will cost the Sass family $780 plus any tests that Kaylee may need. The family will have to pay 50 percent up front, then make payments on the rest. After losing their health insurance the family is in $210,000 of medical debt from Kaylee's hospital bills.
The trip to Pennsylvania will cost the family about $3,000 in plane tickets plus the family will need to rent a car and they will need a hotel with a kitchen in the room because Kaylee is on a special low fat diet.
"Any fat her body intakes the pancreas eats itself even more, so it will kill her faster," she said. "We try to stick to under three grams of fat a day."
During the doctor visit in Pennsylvania the family is going to see if Kaylee can qualify for a special procedure that can help with her conditions. In order to qualify, Kaylee has to have a certain amount of pancreas left, right now her pancreas is 70 percent damaged.
The procedure is called islet cell transplant which includes taking cells from the pancreas and injecting them into the liver so the liver can train itself to work as both the liver and pancreas.
"It has been done 671 times and has been successful all but three times," Stephanie said.
If Kaylee reaches to the point to where she would need insulin then she can't have the procedure done.

"She is really nervous and scared about the cell transplant," she said.
Stephanie said that parents who have lost their children at young ages should look into donating their organs because it could save another child's life in the future, but she does understand a lot of parents don't think about donating the organs during a difficult time.
The family is having a fundraiser car wash at 10 a.m. Friday and Saturday at Cerbat Lanes. They are also hoping to have another one on June 2, but haven't found a place to hold the fundraising event. The family has put out money jars in various locations around town such as the Gas n' Grub on Hualapai Mountain Road, Rainbow Diner and Rutherford's 66 Family Diner.
To reach out to the Sass family, call Stephanie at 928-279-1667 or email at best.mom.around@gmail.com. To help pay with the Pennsylvania doctor visit donations can be accepted through Kaylee's gofundme page, https://www.gofundme.com/kaylee-sass-medical-amp-expenses.
Related Stories
More like this story
SUBMIT FEEDBACK
Click Below to:
This Week's Circulars
To view money-saving ads
For as little as $3.49*