The Kingman Municipal Court is offering up a solution for those who can't afford fees
Originally Published: May 21, 2018 6 a.m.
Can you not afford to pay your financial obligations to the court following a misdemeanor? Join the club. Except, this club doesn't meet in jail on sentences of one, two or three months as it has in the past, thanks to new practices at Kingman Municipal Court.

Kingman Municipal Court Judge Jeffrey Singer wants to work with those who can't afford to pay their court fees. Through the fair justice initiative, he's trying to dispel the belief that the court will squeeze whatever it can from misdemeanor offenders and put them in jail without consideration for what's happening in their lives.
"I spend a lot of time with the defendants just figuring out what's going on, why haven't they complied?" Singer said. "Just having a real heart to heart talk with them."
The initiative, or Task Force on Fair Justice for All out of Phoenix, asks courts to look at alternatives outside of incarceration for misdemeanor defendants. Singer described it as being as efficient and effective as possible in getting people to satisfy court ordered financial obligations.
However, the program has no effect on jail sentences. If sentenced to jail for a DUI or domestic violence conviction, defendants will serve that sentence. The fair justice initiative is concerned only with failure to pay issues.
"If they're in jail for 30, 60, 90 days on failing to pay, they're probably going to end up losing their job, they may lose their automobile, they may end up losing their home," Singer said. "Then how are they going to get their obligation satisfied with the court?"
Since that seemed to Singer to be neither efficient nor effective, he was excited to look at alternatives through the fair justice initiative. However, the court isn't looking the other way on these misdemeanor offenses. Singer noted that defendants must still satisfy their responsibilities and obligations to the court.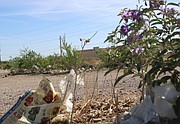 If placed on an out-of-custody docket to discuss with a judge why payment is delinquent, failing to show up will result in a warrant being issued for their arrest for failure to appear.
"It's not like we're telling people to skirt their responsibilities because that's not going to work either," he said. "But we want to look at options other than if they can't satisfy their financial legal obligations than just throwing them in a jail cell for 30, 60, 90 days. The days of doing that at the Kingman Municipal Court are over."
Instead, judges will sit down with defendants and discuss why they can't pay in an effort to work something out. A defendant has a few options upon being sentenced. They can pay their balance in full, make payment arrangements, or eligible defendants can perform community restitution hours.
Singer wants the court and the City of Kingman to work together, too. The court's new community restitution program requires those performing community service to do at least half of it for one of four participating City agencies. Defendants can perform their hours through the Public Works Department, the Parks department, the fire department and the tourism department.
"We're excited to be able to have an opportunity for them to get some hours of community service written off, and we're also excited that we can get some opportunities to so do some cleanup for our community," said Ed Tapia, City sanitation superintendent.
Tapia and his first group started cleaning up litter in town earlier this month.
"It was a small impact, but again, a good impact," he said. "We're looking forward to future areas that we can combat for litter."
These programs not only benefits the defendants, but the City and courts as well. Singer said putting people in jail for failing to pay nominal amounts hurts all who are involved. Putting a defendant who owes $500 in jail for a month doesn't have too many payoffs for either the defendant or the court.
"That costs the City over $2,000 dollars," Singer said. "So you're putting someone in jail and costing the City and the court over $2,000 to try and collect $500, it doesn't make any sense."
When Singer started at Kingman Municipal Court about three years ago, jail costs totaled a third of the court's budget. The new initiatives recently led Kingman Municipal Court to budget about $140,000 less than it did last year.
"In my opinion, it's going to save the City well in excess of $100,000 by utilizing this program," he said. "We've already seen it in the bills we get from the jail. The jail costs have gone down so significantly."
Singer believes being able to tell their side of the story directly to the judge is a first-time experience for defendants. Many are appreciative of the alternatives and compassion they're not used to seeing at a courthouse.
"We will work with you," Singer said. "We're not doing the old school way of you don't do something just throw you in jail, but you have to meet us halfway. You have to let us know what's going on in your life and why you're not able to satisfy these obligations, and we will work with you."
More like this story
SUBMIT FEEDBACK
Click Below to: