Lock it or lose it: preventing car theft, burglaries, and damage

Originally Published: May 23, 2018 6 a.m.
It's Monday morning and you realize your alarm didn't go off so now you're late for work. You scurry, trying to get ready and make sure you have everything you need for the day. You may be thinking, "How can this day get any worse?" As you leave your home you notice your car isn't parked outside where you left it, or it's been defaced, or there's your wallet missing from the glove compartment.
Your Monday has officially gotten worse.
Kingman Police Department has seen an increase in car thefts from the year 2016 to 2017, according to their 2017 yearly report. In 2016, there were 68 car thefts in Kingman, and in 2017 they went up to 101.
Deputy Chief Rusty Cooper says there's something called a crime triangle, which is composed of the opportunity, a desire for the criminal to make the offense and the victim or target. Most of the burglaries or thefts happen during times of opportunity.
"Crimes of opportunity means we leave the door unlocked," Cooper said. "When people are wandering the neighborhoods, criminals might be randomly checking doors."
During car burglaries, it's surprising to Cooper how large amounts of money, wallets, and guns are in an unlocked vehicle.
"If we remove the opportunity, we can lower the crime," he said.
The times KPD does solve the mystery behind the car thefts or burglaries, there's usually a drug connection.
"I can very easily (with) all kinds of confidence tell you that it does have a lot to do with (drugs)," Cooper said.
Car thefts and burglaries can happen anywhere in Kingman. Cooper said it just happens randomly and no neighborhood is immune, although people may feel safer in some areas as most neighborhoods don't receive as much foot traffic as other areas of town.
"But there are those specifically that are wanting to commit a crime, and they'll go to neighborhoods and check for doors," he said.
Out of town
Usually when a car theft is reported, the stolen vehicles are found in Phoenix or Las Vegas. Cooper said the car is just used to get somewhere. Years back, cars were being stolen and stripped for parts.
Other occurrences that fall under the car theft incidents category are when people lend others their vehicle and don't return it after a certain amount of time. Kingman is a transportation corridor that sees travelers from different parts of the country.
Cooper said a lot of the crimes are committed by people passing through town and usually skip out on a restaurant bill.
As of the Tuesday, there has been 63 car burglaries and 30 car thefts since January 1.

"The day you leave your door open, things can be long gone," Cooper said.
When it comes to a car being defaced, Cooper said it is seen more from "younger people."
"Vandalism is more in that environment of someone being mad at somebody," he said.
Scenarios Cooper described would be someone leaving a bad relationship and lashing out at the other person, others can be gang activity, or those who are holding a drug debt.
"If someone wants to commit a crime, burglary or damage, they're going to find a way," he said.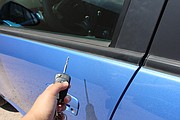 Preventing car theft
Cooper really emphasizes locking your cars to prevent any sort of car theft or burglary. Other suggestions include having lights on at night, motion sensor lights, trimming your bushes or trees, and utilizing doorbell cameras.
"The way we try to prevent is to remind everyone – lock your cars, have lights on at night," Cooper said.
Trimming your bushes may seem like an odd way to prevent a car theft or burglary, but it's part of a technique called crime prevention through environmental design. By trimming down your bushes or trees, it creates an area with less shadows and opportunities for people to hide in.
"There's things like that that people can do at home, like trimming your bushes," Cooper said.

Another important tip the KPD deputy chief said was to report any suspicious activity.
"If it looks suspicious, they need to give us a call," the deputy chief said.
For Cooper, his definition of suspicious would be anything out of the ordinary. There has been a few times where civilians have told him that they just don't want to "waste" the police department's time.
"You need to waste our time, don't let that keep you from calling us," he said.
When the community calls and reports suspicious activity, it gives officers a flag to keep an eye out in that particular area. If officers do come in contact with the persons in question, then those people know they are being watched. It can make them think twice next time.
"It removes the desire part of the crime triangle," Cooper said.

More like this story
SUBMIT FEEDBACK
Click Below to:
This Week's Circulars
To view money-saving ads
For as little as $3.49*