The highway of sorrow
Highway 68 marked by graveyard of crosses for crash victims
Originally Published: May 25, 2018 6 a.m.
It's a highway of sorrow that runs through this rural Mohave County settlement of mostly retirees and snowbirds, some spots marked by a couple pieces of wood tied together, others with elaborate memorials.
Photo Gallery
Highway 68 Crosses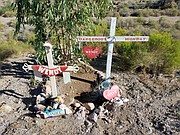 Dozens of crosses can be seen along Highway 68, memorializing people who've died in crashes on the road from Golden Valley to Bullhead City. Travel writer Pat Barry counted 52 crosses along a 28-mile stretch. (Photos courtesy of Pat Barry)
They all speak of the heartache and pain left behind by crashes that took the lives of loved ones.
Over the past 10 years, more than 40 people have met their maker on State Route Highway 68, a 30-mile east-west travel corridor from U.S. Highway 93 outside of Kingman to Bullhead City on the Colorado River.
A motorcyclist and a pedestrian were killed on the highway in March, and most recently, a Golden Valley teenager died in a rollover crash on May 15.
Speed and alcohol are usual suspects in fatal crashes on the highway, where the speed limit is 55 mph through the undivided road in the business district and bumps up to 65 mph on the divided highway.
"We have our share of accidents," said Dave Martin, fire marshal for Golden Valley Fire District. "It's people not paying attention and pulling out in front of each other."
Martin, a lifelong resident of Golden Valley, said traffic has increased throughout the years, not only truck traffic coming off U.S. 93, but business traffic through the main part of town.
"Back then, it was a two-lane road in and out of washes. During monsoon season, they would close the road," he said.
Calming traffic
Arizona Department of Transportation entertained the possibility of installing roundabouts and stop lights to slow traffic, but the idea was largely opposed by Golden Valley business owners and residents.
ADOT Northwest District Engineer Alvin Stump said he's submitted a request for safety funding to build a raised center median with limited points of access. He'll know within a month if he receives the funding.
"Basically we looked at going through the town area because there's been several crashes through the area," Stump said. "From the five-lane segment, we're looking at a raised median. It does have a traffic-calming effect, and the other thing of course is someone pulling out on the street and misjudging traffic."
Pat Barry, a Kingman retiree who wrote, "Hello America, How Are You?" about his travel memoirs with his wife, Judy, sees memorial crosses along the 33,000 miles of highway he's driven in America and Canada, but never a concentration such as those along Highway 68.
He counted 52 memorial crosses in a 28-mile stretch.
"Even though these crosses were placed over a long period of time, it still indicates a lot of tragedy in a relatively short distance, more than we saw in any one area on our 33,000-mile trip," Barry said.
"It is a reminder to pause for a moment to think about the person or persons who perished tragically and untimely."
Barry isn't intimidated by driving Highway 68, and sees no obvious reason as to why it's so dangerous.
"The first half is pretty much a straight road with a reasonable speed limit," he said. "On the other side of Union Pass, there are curves, but no surprises. Also, the crosses are somewhat evenly divided between westbound and eastbound, and the Golden Valley stretch and the downhill side."
Smell the roses
Crashes and vehicle fatalities are on the rise in Arizona and across the nation, and reversing that trend starts with drivers themselves, said John Halikowski, director of Arizona Department of Transportation.
"Most drivers are responsible, but a few selfish ones drive drunk or high, drive like a madman or refuse to put the down the phone," he said. "If you know a driver like that, please talk with them."
So far this year, 136 people have died on Arizona highways, up 24 percent from a year ago, ADOT reported.
Mohave County Supervisor Jean Bishop said Highway 68 has a mix of travelers. Some are towing boats and recreational vehicles, focused on getting to their destination with not time to waste. Others are going to work or running errands around town.
"This mix of drivers or the driver psyche may in some instances give way to tailgating a slower motorist, invoking aggressions and road rage," Bishop said.
She's not against roundabouts, but is not convinced they will change drivers' behavior and prevent them from taking risks.
Martin, the Golden Valley fire marshal, said it might help to put stop lights in the middle of the valley where most of the stores are located.
"I don't think lowering the speed limit will help," he said. "We see DPS and Mohave County Sheriffs (patrol cars) on the road. It'd be nice if people weren't in such a big hurry, make sure there's no traffic when they pull out. Stop and smell the roses."
Better to smell them now than have them placed on your grave.
More like this story
SUBMIT FEEDBACK
Click Below to:
This Week's Circulars
To view money-saving ads
For as little as $3.49*