Remember the fallen: American Legion, Vietnam Veterans holding Memorial Day services
Originally Published: May 28, 2018 6 a.m.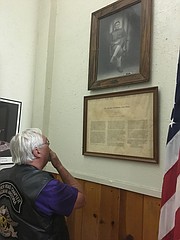 American Legion Post 14 Commander Dusty Pederson will lead a Memorial Day ceremony at 11 a.m. today at Mountain View Cemetery, 1301 Stockton Hill Road, and he's hoping people fill the chairs there to honor fallen veterans.
The former U.S. Army helicopter pilot flew into enemy territory in Vietnam to pick up wounded soldiers, and while he's not keen on talking about those experiences, he'll be sharing stories about his grandfather's service in the U.S. Navy during World War I and his father's footsteps in World War II.
"It's just a very solemn ceremony that I'm proud to take part of," Pederson said Friday at the downtown Legion post, which has a display case filled with medals, photographs and service hats of past commanders such as Donald "Joe" Whalen, Robert Ellis and Phil Brock.
American Legion Post 14 was founded in 1919, and was named for Sam Swaskegame, a member of the Hualapai Tribe and the first Native American to be killed in World War I at the second Battle of Marne, France, in 1918.
Memorial Day, originally known as Decoration Day, started during the Civil War to remember the dead from both the Union and Confederate armies. Today, it's for all the soldiers who never returned to a glorious homecoming.
Veterans Memorial Park
Vietnam Veterans of America Chapter 975 will hold a Memorial Day ceremony at 9 a.m. at Veterans Memorial Park, corner of Beale Street and Route 66.
Chaplain Paul Pitts will conduct the ceremony, and members of the audience will be asked if they want to speak. About 100 people have shown up at past ceremonies held at Veterans Memorial Park.
"This is for all the veterans who paid the ultimate price," said Pat Farrell, a Vietnam-era veteran and president of Jerry Ambrose Veterans Council, which is rehabilitating former Arnold Plaza into a resource center and transitional home for veterans.
"I had some friends from my hometown … I lost two of them and really can't even talk about it today," he said.
Patriot Guard Riders will form a flag line, and the Kingman Young Marines will present the colors. The Young Marines, who range from 8 to 18 years of age, are putting up a new 4-foot-by-8-foot American flag to replace the tattered one at the park, said Terry Flanagan, commandant of the local Marine Corps League.
Mountain View Cemetery
The Memorial Day service starts at 11 a.m. with an invocation by American Legion Chaplain Rebecca Farris, followed by short speeches on the meaning of Memorial Day.
Pederson invited commanders from VFW posts in Kingman and Golden Valley, the Eagles and Elks to speak at the service, which will last about 30 minutes. The Golden Valley Pistoleros and Roses will re-enact an Old West shootout.
"We had a good turnout last year. I was very proud to see all the people that showed. Everybody gets to honor the flag and honor the veterans," the Legion commander said.
Steve Seney, an American Legion member who served in the U.S. Marine Corps and U.S. Air Force, said it took him 30 years to visit the Vietnam Veterans Memorial wall in Washington, D.C.
When his wife, Ann, worked at the Pentagon, he would jog the National Mall every day and always took a different route to avoid the wall.
"I just couldn't do it," said Seney, who served a tour in Vietnam in 1971-72. "I didn't realize how difficult it was going to be until I came home. When you lose someone next to you in combat, it's done and gone. When you reflect on it a year later, it's a whole lot harder."
Dave Gossage, leader of Cub Scout Pack 53 and Boy Scout Troop 53 in Kingman, is getting the kids out of bed early to place flags on all the graves at Mountain View Cemetery, starting at 6 a.m. They'll be picking them up at 5 p.m.
"We invited them, but we can't make them go," Gossage said. "Mostly I talk to their parents and they're pretty much going for it. They are the ride. They kind of get into it once they're there."
Following the service, American Legion Post 14, 225 E. Oak St., will serve a barbecue from 1-3 p.m. Cost is $6.
More like this story
SUBMIT FEEDBACK
Click Below to: