Democratic gubernatorial candidate David Garcia submits signatures, Kyrsten Sinema for Senate
Originally Published: May 29, 2018 5:40 p.m.
KINGMAN – David Garcia, Democratic candidate for governor, turned in nearly 9,000 signatures Tuesday with the Arizona Secretary of State, qualifying him for the ballot.
"It's a tremendous honor to have the support of so many Arizonans and to have earned a spot on the ballot and have the opportunity to run to be the next Governor of Arizona," Garcia said in a press release. "Unlike Ducey and Trump, as governor I'll work for Arizonans not wealthy special interests. My top priority will be making sure every child has the best shot at opportunity and the American Dream. This means making sure our schools are excellent and safe learning environments for all our kids."
The 9,000 signatures Garcia collected is far more than the 5,801 that are required. Garcia highlighted the unique nature of his campaign in that no paid canvassers were used, which falls in line with his promise to not take corporate tax or lobbyist dollars during the campaigning process.
Before coming to Kingman in early May, Garcia said candidates elected through corporate tax and lobbyist dollars end up answering to them, as opposed to constituents.
"We did not use a single paid canvasser but instead have built the largest grassroots infrastructure in Arizona," Garcia said. "Over 5,000 volunteers have now signed up to be a part of our campaign, and they have been diligent in carrying our petition across Arizona. Our volunteers have met their first goal and have successfully put us on the ballot."
The release also notes that Garcia has been endorsed by 22 of 39 elected Democrats in the Legislature, as well as by numerous other organizations throughout Arizona.
State Senator and Democratic gubernatorial candidate Steve Farley also turned in more than 8,700 signatures Tuesday to make it on the ballot.
Another Arizonan has filed her 10,000 signatures for the United States Senate seat.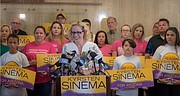 Congresswoman Kyrsten Sinema officially made the ballot Tuesday with over 10,000 petition signatures filed.
"Arizonans are tired of the chaos and dysfunction in Washington," Sinema said in press release. "We deserve leaders who will put aside partisan politics and work together to get things done for Arizona."
In the senate, Sinema said she will continue to deliver for Arizonans by helping veterans receive benefits they have earned, accessing affordable health care, creating well-paying jobs and keeping Americans safe at home and abroad.
In the press release it also included quotes from some of her supporters including law enforcement, small business owners, students and advocates for veterans.
Vic Peterson, an advocate for veterans said Sinema will defend Medicare and Social Security because seniors earned it through a lifetime of hard work.
Sinema is running as a Democrat.
Information provided by David Garcia's and Kyrsten Sinema's campaign
More like this story
SUBMIT FEEDBACK
Click Below to: