'Who doesn't get excited about sugar?'

Originally Published: May 29, 2018 5:57 a.m.
KINGMAN – Sweets, treats, classes and cakes: Victoria's Sugar Shack is a one-stop destination for all of the above, and now has permanent retail location at 1455 Northern Ave.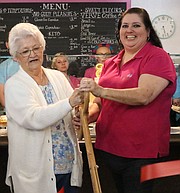 Victoria Todd, owner, started baking when she worked at Riverside Resort Hotel and Casino in Laughlin, Nevada. She was offered a position at the bakery, and said she's baked nonstop ever since.
"There was a pastry chef there back in the 80s who said I had a talent and took me under his wing at the Riverside," Todd said. "I'm blessed throughout my career there to have learned from pastry chefs who worked there."
For Todd, the joy she gets from baking is seeing the delight come over people's faces.
"The best part is just creating happiness for people," she said. "People are so excited when they come and pick up their cakes or special deserts. Who doesn't get excited about sugar? We've even had clients who have come in, looked at their cake and have literally cried because they were so touched just by the occasion."
Todd has been baking for about 32 years, 10 of which have been here in Kingman. She's done business out of the Victoria's Sugar Shack trailer in addition to being a home-cottage bakery.
"I did that for a couple of years, and then this past Christmas I was just so busy with the Christmas orders I knew I was having growing pains," she said.
It was then that local business owner and patron Krystal Burge approached Todd, and asked if she would have interest in renting a permanent retail location. Todd said Burge has been instrumental in getting the new location up and running, supporting Todd and her business "100 percent."
Todd's new location has allowed her to expand the menu, and she said business has increased quite a bit, doubling what she had been doing if not more. Victoria's Sugar Shack makes cakes, cookies and doughnuts, among other sweets and specialty items like gluten and sugar-free, low-carb, and vegan desserts, all of which are freshly baked in-house.
The sugar shack even has a special events room for birthdays or other occasions, along with cake decorating classes.
"You can't do it alone when you open up on this large of a scale, and my friends and family have been a real blessing," Todd said. "They've been helping out a great deal."
That includes her four staff members and managers, Gideon Eads and Sharon Roberson.
"Gideon and Sharon have just been phenomenal in helping me run the business," she said. "It's been awesome, along with the staff, of course."
Todd has big plans for the future, too.
"I'd love to do a satellite store downtown," Todd said. "So we'd bake everything here at the main building and transfer it to a small retail location. We also take the sugar shack trailer around like on First Fridays or special events happening around town. I'd like to do more of that."
Victoria's Sugar Shack is open from 7 a.m. to 5 p.m. Tuesday through Saturday.
"Come on over and check us out," Todd said.
More like this story
SUBMIT FEEDBACK
Click Below to: