Mohave County ranked No. 4 in state for economic growth
Originally Published: November 4, 2018 7:27 p.m.
Dot Foods opened a $30 million distribution facility in Bullhead City, Hilton Hotels built the $10 million Home 2 Suites in Kingman and Scot Industries is progressing on a $12 million pipe production plant in Golden Valley, all contributing to significant economic growth in Mohave County.
The county ranked No. 4 in Arizona for business growth, and 373rd in the nation, according to a study by New York-based financial technology company SmartAsset.com.
SmartAsset identifies places across the country that are receiving the most incoming investments in business, real estate, government and the local economy as a whole.
"We release these studies to get people thinking and talking about big financial decisions like investment or planning for retirement," AJ Smith, vice president of financial education for SmartAsset, said in an email to the Daily Miner.
"We hope this study helps give people some local context on their economy and how the economies are growing in counties nearby and across the country."
SmartAsset makes its calculations using statewide gross domestic product and local business data from the U.S. Census Bureau, he noted.
There are several ways individuals, governments and businesses can invest in a county. SmartAsset looked at four factors: business establishment, GDP growth, building permits and federal funding.
Mohave County registered at 3.11 on the GDP growth index, with 1.8 percent business growth, $446 million in GDP growth, six new building permits for every 1,000 homes, and $93 in per capita federal funding.
Doug Angle, president of Angle Homes, said he didn't realize Mohave County was so far behind Maricopa and Pinal Counties in building permits, which were at 16.0 and 15.1 permits, respectively.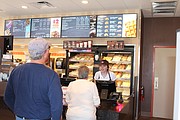 "We continue to have good interest and home sales throughout all of our subdivisions in Kingman," Angle said. "A lot of our buyers are coming from California. I know that permits are up in the City of Kingman and in the county areas that are adjacent to the city."
Angle said he expects to close on about 110 new home sales this year, compared with 91 in 2017, and is hoping to see continued strong house volumes for the next two years.
Dot Foods was the feather in the hat for Mohave County, which doled out $500,000 in economic development incentives to bring one of the nation's largest food distributors to Bullhead City.
The company hired more than 100 employees when the 190,000-square-foot distribution center opened in March, including office and warehouse workers, truck drivers and transportation roles, marking a payroll investment of $8.5 million for the local economy. Dot plans to hire 170 people by 2020.
Steve Wilmeth, president of Lone Star, Texas-based Scot Industries, expects to hire about 15 people when the 80,000-square-foot pipe plant in Golden Valley is completed in 2019.
The company operated a 50,000-square-foot plant at Kingman Airport and Industrial Park since 2013, but Wilmeth said he was looking to expand and build his own plant.
Kingman has seen smaller projects such as Dunkin' Donuts, Jersey Mike's and the Human Bean open for business this year, with Dairy Queen and Perkins restaurants on the way.
Business is good after going through the opening rush, but it could be better, Dunkin' Donuts General Manager Petrina Lively said. She was doing $25,000 to $30,000 in receipts a week at her previous shop in Newport, Conn.
"We give kids jobs," Lively said of her 23 employees. "We can't hire everybody, but I think that contributes to the economy. I think it's growing a little. I see more businesses opening since I've been here."
SmartAsset's study looked strictly at GDP using inflation-adjusted real growth at the county level and did not measure more "granular" metrics like specific businesses or cities, Smith said.
"Looking at the county as a whole, we found that Mohave County had GDP growth that ranked fourth out of Arizona's 15 counties," he said.
The final factor was federal funding in the form of contracts awarded to businesses in Mohave County, divided by population, which gives a per-capita look at the flow of investment from the federal level.
With its strategic location on Interstate 40, two main lines for Burlington Northern Santa Fe Railroad and a commercial airport, Kingman is poised to grow as an important regional distribution center for northwest Arizona and the western United States.
Gary Kellogg, economic development director for City of Kingman, said the local economy continues to recover from the Great Recession.
He's seen a pickup in the number of inquiries into Kingman Airport and Industrial Park "now that the dust has settled," and is working with three different clients.
"It's difficult because of nondisclosure, but they're looking at locating here," Kellogg said. "What we have going for us is geographic, our proximity to California. We've really seen a step up."
While development may not be specifically in Kingman, the jobs created by companies locating along Interstate 40 south to Yucca will be filled by Kingman residents, he added.
More like this story
SUBMIT FEEDBACK
Click Below to: