Election Day 2018: here's a reminder of what's on the ballot
Originally Published: November 5, 2018 6:30 p.m.
Where to Vote
Most counties have ballot drop boxes. In Kingman, the ballot drop box is at the Mohave County Recorder's Office – Voter Registration Division, 700 W. Beale St. Early ballots can be dropped off there or any precinct ballot box until 7 p.m., Tuesday, Nov. 6.
Precinct locations around Kingman are:
Grace Lutheran Church, 2101 Harrison St.
College Park Baptist Church, 1990 Jagerson Ave.
St. Mary Roman Catholic Parish Center, 302 E. Spring St.
St. John's United Methodist Church, 1730 Kino Ave.
First Southern Baptist Church, 3120 Hualapai Mountain Road.
Calvary Baptist Church, 3575 Schaeffer Ave.
Praise Chapel, 419 Harrison St.
Click the document below for a full list of precinct voting centers.
Document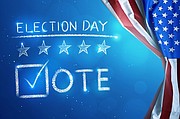 If you haven't turned in your early ballot, your vote still counts as long as you get your ballot in any ballot box or at the Mohave County Recorder's Office – Voter Registration Division, 700 W. Beale St., by 7 p.m. today.
This is what you'll find on the ballot.
City Council
The four candidates on the ballot for two seats on Council are Scott Holtry, Deana Nelson, Harley Pettit, and Ken Watkins. The three write-in candidates are Tanya Jordan, Jeff Adams, and Stuart Yocum.
Kingman Unified School District
There are four candidates for three positions on the KUSD board: Jennifer Shumway, Carole Young, Cliff Angle, and Charlie Lucero.
Kingman Hospital District No. 1 of Mohave County
The three candidates vying for two seats on the board are Stephen Pebley, Penny White, and Daniel Del Monaco.
Judge of Superior Court Div. 6
The one candidate on the ballot for the position is Eric Gordon. The one write-in candidate is Billy Sipe.
State Positions
State Senator, District 5 candidates are challenger J'aime Morgaine (DEM) and incumbent Sonny Borrelli (REP).
State Representative, District 5 candidates for two seats are challengers Mary McCord Robinson (DEM) and Leo Biasiucci (REP) and incumbent Regina Cobb (REP).
Gubernatorial candidates are challengers David Garcia (DEM) and Angel Torres (GREEN), and incumbent Doug Ducey (REP).
Attorney General candidates are challenger January Contreras (DEM) and incumbent Mark Brnovich (REP).
Secretary of State candidates are Steve Gaynor (REP) and Katie Hobbs (DEM).
Federal Positions
U.S. Senate candidates for Sen. Jeff Flake's seat are Martha McSally (REP) and Kyrsten Sinema (DEM).
U.S. House candidates are challengers David Brill (DEM) and Haryaksha Gregor Knauer (GREEN), and incumbent Paul Gosar (REP).
Propositions
Kingman voters will decide seven ballot measures Nov. 6:
Proposition 412 Relating to Resolution 5151-A proposing to extend the alternative local expenditure limitation (Home Rule Option) for the City of Kingman.
Proposition 413 Relating to the Responsible Sales and Use Tax Act is intended to repeal a 1 percent increase in the City's transaction privilege (sales) and use rates and requires any future increases to this tax be approved by the people.
Proposition 125 Relating to Public Retirement Systems asks voters to approve measures to the Correction Officer Retirement Plan (CORP) and Elected Officials Retirement Plan (EORP) that change the formula for settling annual increases.
Proposition 126 Relating to Prohibition of Taxation of Services would amend the state Constitution from imposing new transaction-based taxes on "services" or increasing existing taxes on "services." It does not repeal taxes, fees or assessments in effect since Dec. 31, 2017.
Proposition 127 relating to Renewable Energy Production involves the Clean Energy for a Healthy Arizona Amendment. The amendment would require affected utilities that produce electricity to obtain renewable energy resource or credits in an amount of not less than 12 percent in 2020 increasing incrementally to not less than 50 percent in 2030 and beyond. It also may increase costs to retail KWH sold by the utilities from not less than 3 percent in 2020 to not less than 10 percent in 2030 and beyond.
Proposition 305 would expand eligibility for education vouchers to all Arizona students, allowing the program to increase by one-half of one percent of the total public school enrollment each year through the 2021-2022 school year, capping enrollment at 30,000.
Prop 306 relating to Citizens' Clean Elections Commission would prohibit candidates who participate in the Clean Elections program from making any payment to a political party or non-profit allowed to conduct election activity, and would place oversight of the Commission under the Governor's Regulatory Review Council.
Also on the ballot are the offices of State Treasurer, Superintendent of Public Instruction, Mine Inspector, Corporation Commission, Clerk of the Superior Court, Justice of the Peace, Constable, Justice of the Arizona Supreme Court, and five other Judge of the Superior Court seats.
More like this story
SUBMIT FEEDBACK
Click Below to: