Gilbert felt calling of the sea, only to be drafted into US Army
Originally Published: November 10, 2018 7:30 p.m.
As a kid growing up in the era of black-and-white TV, Keith Gilbert watched a lot of World War II movies and almost every episode of the TV series, "Victory at Sea."
He worked on fishing boats in Newport Beach, California, figuring to be a natural for the U.S. Navy when he was drafted in 1965.
Gilbert wrote Navy as his preference in the upper left corner of his draft paperwork, taking a chance that he might end up as a U.S. Marine on the battlefield front.
At the processing center in downtown Los Angeles, he was given the oath by a Navy officer. No doubt, he'd soon be firing torpedoes from a destroyer at sea.
"We go through all the testing and nobody says anything," Gilbert, 77, said in an interview from his Kingman home. "All of us boys were pumped up. We're in the Navy."
Funny how fate delivers its twists.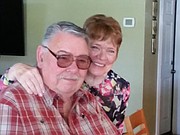 About that time an Army corporal comes around and tells Gilbert and his buddies they're getting on a bus to Los Angeles International Airport in half an hour, flying to Louisiana.
"Wait! Wait! How come not San Diego? I don't remember a Navy training base in Louisiana," Gilbert expressed to the corporal.
His next memory is standing in line at Fort Polk with rain pouring down the back of his neck, waiting to get his head shaved.
Gilbert had just completed his two-year associate's degree at Chaffey College in Fontana, and went to Vietnam as a draftsman, part of a small 50-man detachment of the U.S. Army Corps of Engineers.
He didn't earn a lot of medals, just a couple ribbons for his service in Vietnam and good conduct, but he designed kennels for guard dogs and tunnel dogs at the request of his warrant officer.
And he made signs, like "This shower is not attached to the South China Sea. Please use water sparingly."
He also drew up plans for the officers' club, where 2-by-4 wood framing was an excellent food source for termites.
"We just worked our butts off over there and you don't get much recognition for that," said Gilbert, who worked at the base camp of the 1st Cavalry Division at An Khe, Vietnam (central highlands).
"I'm sure the guys that got shot up would love to trade places. We got shot at sometimes. We took a mortar attack about once a month."
Gilbert returned from Vietnam in July 1967, six months before the Tet Offensive, as a Spec 5, or E-5 rank.
He and his wife of 44 years, Sandy, have lived in Kingman for 14 years, and are members of Kingman of God Baptist Church. He founded the Mohave Arms Collectors and was vice president for many years.
More like this story
SUBMIT FEEDBACK
Click Below to:
This Week's Circulars
To view money-saving ads
For as little as $3.49*