School bus drivers see cars avoid stop arm sign on a daily basis
Stop means stop

Originally Published: November 10, 2018 9:53 p.m.
My mom comes into my room telling me it's time for school. I get out of bed to brush my teeth, get dressed, grab some breakfast before heading to the bus stop. I can't stop thinking about the test I have today in Ms. Collins class, hopefully I pass it. I grab my Batman backpack, tell my mom goodbye and out the door.
I cross the street to get the bus. As I'm getting close to get to the other side safely, a car speeds around the bus on the left hand side, ignoring the pulled out stop sign, to pass it. The car nearly misses me.
This can be your child, grandchild, sister, brother or any loved one.
Kingman Unified School District bus drivers see cars ignore the pullout stop sign. Cars pass the bus on the left lane and speed in school zones on a daily basis.
Document
The time of day doesn't matter because bus drivers see it in the morning getting the students to school and in the afternoon taking them home.
JD Davis, a special education bus driver for Little Explorers Early Learning Center, said about 10 days ago a son and father almost got hit as they were crossing the street in front of the bus.
"The (car) came right by and almost hit them," Davis said. "It gets bad out there."
Bus drivers said where they see many of the issues near school zones. Streets drivers see issues with everyday are Thompson Avenue, Gordon Drive, Airfield Avenue, Fairfax Street, and Western Avenue.
Andrea Skillern, a bus driver for KUSD, said they are constantly running the pull out stop sign when SPED buses are loading up and off a child with a wheelchair.
"It doesn't take us more than three minutes to unload and load," she said.
When a bus is preparing to come to a stop it will signal its yellow lights indicating it's coming to a stop and let other cars know to slow down. As the driver signals the red ones and the stop sign, cars must come to a complete stop.
Bus drivers would like to see safety feature improvements on buses, including stop arm cameras, extended arm and rear stop signs. Currently KUSD buses only have the stop sign at the front of the bus.
"It's not about the sign it's about the children," Davis said.
According to School Bus Fleet – a magazine providing information on managing and maintaining school buses – a county in Maryland issued about 51,000 tickets to drivers who were caught by the stop arm cameras illegally passing a stopped school bus.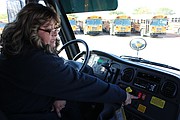 In January and February 2018 Kingman Police Department officers cited three drivers for school zone violations.
Each vehicle violated A.R.S. 28-797F, which states a vehicle shall not go over 15 mph between signs placed that indicates school is in session and the driver shall stop when children are in the crosswalk.
Also in January 2018, officers gave a warning to a driver for violating A.R.S. 28-797C. The statue states any driver who commits violations in yellow school zones indicated with portable signs and permanent warning signs risks having fines doubled.
"The Kingman Police Department patrols and conducts enforcement in school zones while children are going and getting out of school," Jennifer Sochocki, KPD spokeswoman said. "This occurs as time permits, on request, and under special circumstances."
According to Sochocki in 2017 KPD didn't give out warnings or citations for school zone violations.
As the school year starts approaching, KPD reminds drivers and parents about school bus safety, and walking and riding bicycles to school. KPD also encourages parents to talk to their students about bus safety.
More like this story
SUBMIT FEEDBACK
Click Below to:
This Week's Circulars
To view money-saving ads
For as little as $3.49*