Donations of rare electric vehicles keep coming, despite lack of space
Donations exceed space
Originally Published: November 11, 2018 6:30 p.m.
Tucked away in a warehouse at the airport and a former church downtown are revolutionary electric cars awaiting exhibit space at the Route 66 Electric Car Museum, established during the 2014 International Route 66 and believed to be the first in the world.
Roderick Wilde, executive director of the Historic Electric Vehicle Foundation, is thrilled to be receiving donations from the prestigious Petersen Automotive Museum in Los Angeles and private owners across the nation.
If only he could show them off to the 50,000 tourists and travelers who come through Kingman for the Route 66 experience.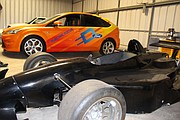 Six new cars were delivered from the Petersen museum in October, and it could have been more if not for transportation costs and storage space.
"This gift has been a nightmare for me," Wilde said.
He had to find a means to transport them to Kingman, with an estimate of nearly $7,000 from one car hauler. He collected $5,500 in donations, including $1,000 of his own money. Jim Gunter helped get the cars to Kingman and the Route 66 Cruizers helped unload them.
Wilde has close to 100 cars dedicated to the Route 66 Electric Vehicle Museum, part of Kingman's Powerhouse Visitor Center, but he has nowhere to put them.
Rare collection
Some of the cars being donated by Petersen are quite rare. Gunter picked up a 1987 Suntera Sunray on an earlier trip to the museum that may be one of the original prototypes.
Another vehicle that was delivered in October is the "Xenith," Stanford University's entry in the 2011 World Solar Challenge in Australia. It reached a top speed of 55 mph, powered only by sunshine, and placed 11th out of 37 entries.
There are several milestone cars from the automotive industry's first attempts to "put their toe back in the water" after getting out of electric vehicle research and development for almost 100 years, Wilde said.
Those include a 1993 Ford Ecostar, 1998 Chevrolet S-10 pickup and 1999 Chrysler Epic minivan.
"I can say with certainty that it is a major contribution to the museum and could be in the hundreds of thousands (of dollars)," Wilde said.
Just a couple months ago, he brought a car from California that was built in the early 1980s and set the land speed record for an electric vehicle at Bonneville Salt Flats in Utah. It's being stored in a warehouse provided free of charge by Laron at Kingman Airport and Industrial Park.
"I think it is quite beautiful and I would love to see it in a larger museum next to the Buckeye Bullet," Wilde said. "The two together would create a more powerful statement."
He's also acquired a 1977 Silentia Swedish electric sports car, but hasn't been able to bring it to Kingman from the National Automotive and Truck Museum in Auburn, Indiana.
Growing pains
The Route 66 Electric Vehicle Museum takes up about 3,700 square feet at the Powerhouse Visitor Center with 26 cars currently on display, including the Buckeye Bullet, Willie Nelson's personal golf cart and a 1914 Custer chair car.
The City of Kingman is moving forward to raise funds for a new 50,000-square-foot, two-story museum next to Lewis Kingman Park on Route 66, but that project is very much up in the air.
"We're putting a proposal together for some grants and things," said Josh Noble, tourism director for City of Kingman. "We may have something soon as a possibility to put together a better location for the electric vehicle museum."
Noble gets calls and emails on a monthly basis from people who want to donate their electric car to the museum, sometimes trying to sell the vehicle, but most are willing to donate if someone can provide transportation.
"Most people want to see their car live on as part of a museum," he said.
Other automotive museums such as the Petersen museum may have a small section dedicated to electric vehicles, but the Powerhouse is the only "true" electric vehicle museum, he said.
Noble looks at comments in the guest logbook and said people are excited about the potential of electric car museum proposal, and about learning the history of electric vehicles.
"Though the EV collection is modest, it has some very interesting items and is perhaps the only EV museum in the country," one reviewer wrote on TripAdvisor.
Moving forward
Electric vehicles are displayed at car museums around the world, but they're rarely a focal point and seldom get the attention they deserve, Wilde said. His goal is to move the museum forward with acquisitions, expanding the breadth of the collection.
Rotating the electric vehicles through the museum in not an option because they're not running, and the museum doesn't have the labor or equipment to move them on a regular basis, Noble said.
"However, we are working on a potential funding opportunity to build and operate something for these cars," Noble said. "I cannot speak to it now, but there's a real potential."
The Historic Electric Vehicle Foundation hired Raymond Cooper as marketing director, and he's working with Kingman Economic Development Director Gary Kellogg to pursue grant funding for a new museum location. The Powerhouse Visitor Center would remain as a focal point for specific exhibits, Wilde noted.
Once the new facility is built and marketed worldwide, visitor counts will increase "exponentially" and generate much-needed tourism dollars for Kingman's economy, the museum founder said.
"Our museum already has the largest collection of electric vehicles in the world and several brand or type collections that are also top in the world," Wilde said. "We just do not have the room to display them all at this time, and they keep coming. That will of course all change with a new facility."
More like this story
SUBMIT FEEDBACK
Click Below to:
This Week's Circulars
To view money-saving ads
For as little as $3.49*