Johnston sees huge potential for Kingman Airport and Industrial Park
Originally Published: November 12, 2018 7:27 p.m.
KINGMAN – Less than two months on his new job, Kingman Airport General Manager Steve Johnston is still finding his way around, learning the history of the airport and reading up on the master plan.
He had to make a phone call to straighten out a contract with Pavement Marking Inc. when a worker showed up last week with Type 1 reflective glass beads to paint the runway.
The FAA requires Type 3 beads, which are an important visual aid for pilots taking off, landing and maneuvering on the runway, Johnston explained.
That's just one of many details that come with the job of operating a general aviation airport.
"There's a ton of stuff to learn here, building up relationships and mending fences and getting things ready to move to the next step for the community," Johnston, 61, said Thursday in an interview at his airport administration office.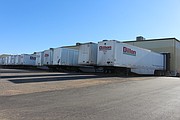 "There's a lot of unrealized potential that with a little bit of work, we can build those foundations to grow the community down the road and make it better."
Originally from Seattle, Johnston grew up surrounded by aviation. His father worked for Boeing and went in with some buddies to buy a 1965 Mooney when Johnston was 5 years old, and he remembers riding in the back end of the plane.
It took him 28 years and four attempts to get his pilot's license, not because of lack of knowledge or flying skills, but because he got distracted by girls in high school, then got married, divorced and went to college.
"It was after 9/11 (Sept. 11, 2001) and not hearing airplanes in the air for five days, I got worried and I thought, 'I'd better get off my butt and get this done before it's too late,'" he said.
Johnston returned to school at Green River College in Washington, got his degree in airport management and started working in noise abatement at Seattle-Tacoma International Airport.
He ran Arlington Municipal Airport in Washington, a former World War II Navy base. It was similar to Kingman with land dedicated to non-aviation use, though not nearly as much.
"We were in the process of offering up land. I was in charge of lease compliance, operations, environmental, a little of everything," he said. "It was like herding deer. The Northwest is a strange place."
At another airport in Marina, California, Johnston started from scratch with infrastructure from an old helicopter base that made sense for the military, but not for civilian use, he said.
Most recently, Johnson was director at Lake Havasu City Airport for 10 years in the same dynamic of going after grants and building relationships with the FAA.
"The niche you have here is an industrial park that's filling up and across the way, you've got 1,400 acres," Johnston said, pointing to an area toward Interstate 40 that would be served by the proposed Santa Fe Parkway interchange.
"We're working with the FAA to release that for mainstream industrial and again, direct access to I-40. With a railroad and major highway, you have a great airport. It can be industrial, it can be airport or it can be a combination. It's an economic development center."
Johnston said he's had several companies ask about locating at Kingman Airport and Industrial Park, referring them to City of Kingman economic development director Gary Kellogg and industrial specialist Bennett Bratley.
The City gained control of Kingman Airport Authority after filing a condemnation notice in December 2017 and going through several rounds of court hearings, and Johnston said airport business owners seem to be "very positive" about the change in management.
"They see opportunities both on the land side and aviation side," he said. "They see the possibility of aviation and non-aviation business coming in and even of expanding, and they haven't seen that in years."
More like this story
SUBMIT FEEDBACK
Click Below to:
This Week's Circulars
To view money-saving ads
For as little as $3.49*